Gmail Inboxes are often filled with promotional emails you never subscribed to. Unsubscribing from these can be a tedious process. Read more to find out How To Mass Report and Unsubscribe From Spam Email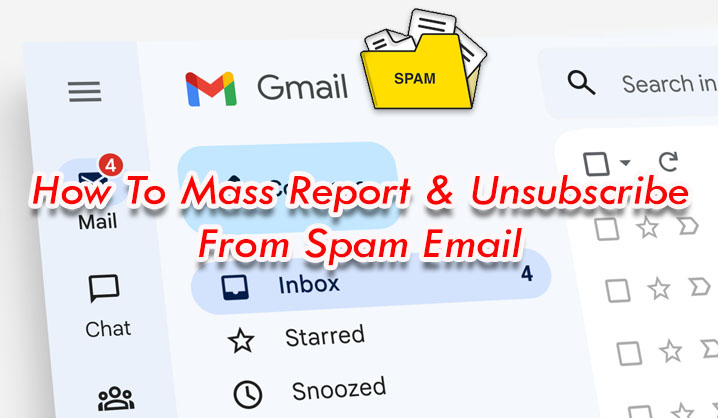 Dealing with unwanted emails has become a permanent fixture in Gmail. Most inboxes are filled with spam from random IDs. This includes newsletters and promotional emails from random brands.
While you can report such spam emails and unsubscribe, doing so individually can be a tedious task. Fortunately, there are some tricks that can help you to clear your inbox and keep it spam-free.
Also read: How To Enable Undo Send Feature On Gmail
How To Mass Report and Unsubscribe From Spam Email
Select all the spam emails you want to unsubscribe from.
Then, click on the i icon at the top.
Now, you should see the options to 'Report spam' or 'Report spam and unsubscribe'.
Next, go through the list of IDs listed and choose the Report spam and unsubscribe option.
That's it! You will now stop receiving emails from these accounts.
Note: While selecting spam emails, make sure that you don't select any important email ID.
Also read: How To Find Missing Emails In Your Gmail Account
Additionally, you can create filters to detect spam emails. Here's how:
Simply click on the search box at the top, and type unsubscribe to list all promotional emails.
Now, select all the spam emails and click on the three dots at the top and choose Filter messages like these.
Then, click on the create filter option and choose what you want to do with these emails – delete, apply labels, or mark them as read.
To automatically delete spam emails, click on the Create a filter option and choose the Delete it option.
Next, you will get a pop-up at the bottom notifying you that a filter has been created.
That's it!
Also read: How To Set Expiry Date To An Email Via Gmail Confidential Mode
We hope the above-mentioned article was helpful. Let us know in the comments section below,
More related stories below: