Twitter has announced that it is testing a new Voice Tweets feature. It will allow users to post up to 140 seconds of audio. Read more to find about Twitter Voice Tweets Feature For iOS Users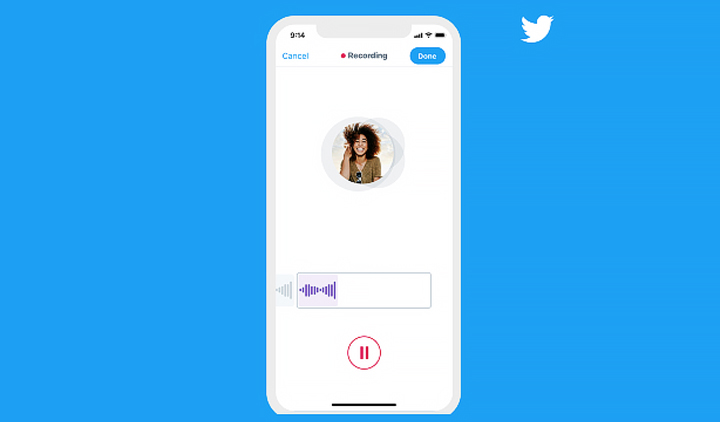 The micro-blogging site is testing a new feature that will allow users to tweet using their voice in a single tweet. Users will be able to capture up to 140 seconds of audio.
Currently, Voice Tweets will only be available to a limited number of users on Apple's iOS platform. It will be rolled out for more iOS users in the coming weeks.
To post a Voice Note, you can just click on the new 'wavelengths' icon on the Tweet composer screen.
Also read: How To Control Music Playing On Your Phone From Your Desktop
The company will also monitor Voice Tweets to prevent abuse, harassment, and misinformation.
"We'll review any reported voice tweets in line with our rules, and take action, including labeling, as needed," said Aly Pavela, spokeswoman, Twitter.
"We are working to incorporate additional monitoring systems ahead of bringing this to everyone," she added.
Recently, Twitter has been under pressure to curb content that includes abuse, harassment, and misinformation.
Currently, it adds labels to content containing manipulated or synthetic media. This includes coronavirus and election-related misinformation.
Also read: How To Make Google Meet Video Calls From Gmail Itself
Conclusion
Recently, Twitter has introduced a new feature that allows users to add stories on the app. However, the "Stories" are being called "Fleets".
Twitter claims that the new feature will allow users to freely think out loud. The new "Fleets" cannot be liked or retweeted like regular tweets.
"We want people to be able to have conversations on Twitter in different ways, with less pressure and more control. That's why we're testing a way to share their fleeting thoughts," said Mo Al Adham, Twitter Group Product Manager.
Additionally, they disappear from your timeline after 24 hours, similar to Instagram, Facebook, and WhatsApp Stories. Other users can respond to the Fleets via Direct Message (DM).
The Twitter Fleets appear at the top of the home screen for limited seconds. You can view them for longer by long-pressing the screen.
Also read: How To Add Stories On Twitter With New Twitter Fleets Feature
We hope the above-mentioned article was helpful. Share your views with us in the comments section below.
More related stories below: