Narendra Modi is the most popular political figure in Social Media and internet in India. He has deep knowledge of social media website such as Facebook, Twitter and Youtube and he is well aware from the impact of these social sites in India. That's why; the victory tweet of Mr. Narendra Modi became the most re-tweeted tweet in India. Mr. Modi used these social sites to communicate with his followers though out the whole election.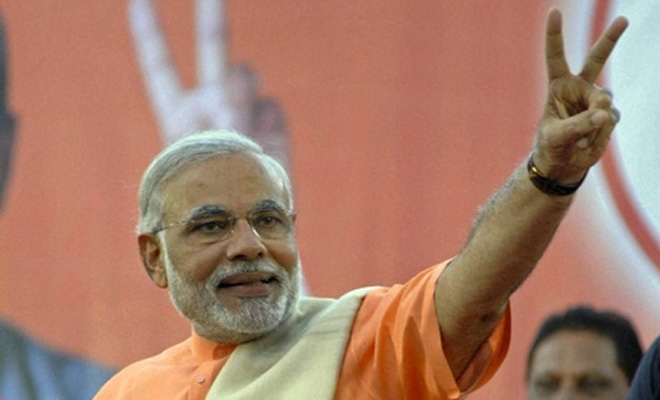 He gave an example in his TV interviews several time, when they needed to select some candidates in Gujarat government, so they planned to make a website regarding hiring and then asked the desired graduates of Gujarat to fill out the form, after the form submissions, they selected the desired number of candidates by merit. So this all shows his knowledge of internet and problem solving skills using internet and technology.
Let me give you another example, recently Narendra Modi launched an app to find government jobs in Gujarat.  This new app from Gujarat government lets youngsters find out about all the future vacancies in Gujarat government for the next 10 years, and this is first time in India that a state launched their 10 year recruitment calendar for all government departments.
These all examples show his ability and understanding of internet and technology. And we think, he is well aware of problems and issues with internet and gadgets in India. So I think, now, he had won the elections and going to become the Prime Minister of India on 21 May, we can expect from him that he will make life easy of netizens. There are several big issues going on regarding internet, I am going to show you some of basic issues and others, so that we can understand what's going on. First of all let me clear all the issues here
Need Improved Internet speed
Need Better Network Connectivity
Need Affordable Internet and Broadband plans
Need Relief in duties on various Gadgets
Motivate Mobile network operators to provide subsidies on smartphone
A yearly seminar of Netizens about issues and gadgets
Some of them are common issues and some are for super users issues. The people who made their income from Internet, how they faces worst cases and deals with clients and people, let me give you an example. My friend Sudhir is a freelancer, he earns by doing coding, designing and promoting websites of his clients. For that he do his own promotion on different networks and websites, he has an impressive portfolio on Freelance.com and elance.com as well. When someone contacts him, ask about proposal first, he submits it to him, and also mention in proposal that he works on advance payment mode only. But people denied his request and claims that may be you run away after taking the advance or maybe you are fraud. Then Sudhir give him some configurations that you can check out my portfolio on different sites like Freelance and Elance, the client still denies his request. This is a common problem for people who works on this model as Sudhir do. So we need a common platform for Indian freelancers approved by government.
Let me give you another example, as you know me, I am a correspondent and editor at intellectdigest.com. I work from my laptop and PC simultaneously. When I am at home I never find any problem regarding internet speed or something because I am always connected to it via broadband or 3G connection on my smartphone. But the problem starts when I work remotely, suppose I need to visit some other location nearby my city. If I am in a metro city the 3G works fine, but as soon as I switch to highways the networks became my enemy. And some of writers I know, they need to visit several locations to complete their article. They rarely found better connectivity in good locations too. And they always say that I will submit it online when I will be in better connectivity. But the problem does not end even here; in some areas they even face the problem of electricity too.
So from our new Prime minister, we want a better connectivity environment with better internet along with at affordable cost. When we look at broadband scenario, we cannot remain connected with cable broadband always, we need some good internet wirelessly too and at a reasonable price as well.
Everyone knows that why Apple iPhone costs too high in Indian market, its due to import duties, local taxes and the depreciation of rupee against dollar is also a major issue. And we can consider no subsidization of products by network carriers is also a major cause. The import duties are 5% along with local taxes that is also 5%. So the 10% more for a device. I am not talking about the iPhone only, I am just giving an example, and the other manufacturer's smartphones too cost 10% more than their basic price in International market. Yes there is a thing called EMI, which makes things affordable for a credit card holder. But I am not talking about the way you can buy a product; I am talking about removing hurdles in the way. And as we know Narendra modi, he and his team will surely figure it out how to remove these hurdles.
And in the end, I saw the Vibrant Gujarat summit, happened in Gujarat. That was like a fair for businessmen and companies from all over the world. That initiative was for bringing all the corporates on a same platform. Same thing we can demand from Mr. Modi that he plan a yearly seminar or summit for bloggers or tech journalists and different companies from India, the community of bloggers is becoming wider day by day. Some of top techies in industry planned such thing but we need support from government too.
So this all from my end, as I am still developing this story, you can also contribute in this story by sharing your thoughts and ideas by commenting below, I will surely add the same.
For More Stay tuned with Intellect Digest India and like us on Facebook or follow us on Twitter.
More related stories below: