WhatsApp has added a new 'Disappearing Messages' feature. Now, messages sent to a chat on WhatsApp will disappear after seven days. Read more to find How To Enable Disappearing Messages Feature On WhatsApp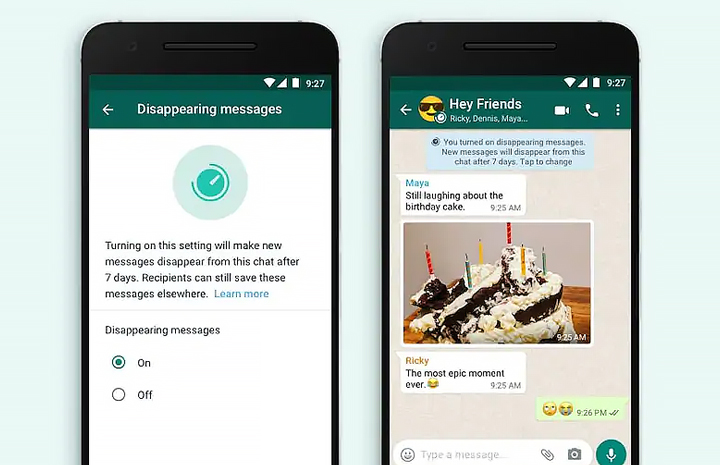 WhatsApp has officially announced the much-awaited 'Disappearing Messages' feature. The new update rolls out globally this month.
Along with Android, iOS, and Linux-based KaiOS devices, the new option will be available on WhatsApp Web and Desktop platforms.
The Snapchat-like feature will allow users to enable an option that deletes new messages after seven days (on both individual and group chats).
The 'Disappearing Messages' feature has to be enabled separately for each chat window. It won't affect messages you previously sent or received in the chat.
In an individual chat, either user can turn disappearing messages on or off. In a group chat, only group admins can turn disappearing messages on or off.
Also read: How To Save Instagram Reels Within The App
How To Enable Disappearing Messages Feature On WhatsApp
Open the WhatsApp chat.
Tap the contact's name.
Tap Disappearing messages.
Select On.
Note: Disappearing messages that are forwarded to a new chat window, which has the option turned off, won't be removed either. Also, replies to a disappearing message might also remain in the chat after seven days.
If a disappearing message is forwarded to a chat with disappearing messages off, the message won't disappear in the forwarded chat.
While the disappearing message will be included in the backup before seven days, it will be deleted when a user restores from a backup.
Additionally, the media received in WhatsApp will be automatically saved on your smartphone if auto-download is on. You can turn auto-download off in WhatsApp Settings > Data and Storage Usage.
WhatsApp also warns that the new feature should be used with trusted individuals. You can take a screenshot of a disappearing message and save it before it disappears. Alternatively, you can copy and save content from the disappearing message.
Also read: How To Save Audio From Instagram Reels & Use Them In Your Reels
Note
WhatsApp claims that seven days is an appropriate window for users to finish a particular conversation while offering a impermanence to conversations.
"We're starting with 7 days because we think it offers peace of mind that conversations aren't permanent while remaining practical so you don't forget what you were chatting about. The shopping list or store address you received a few days ago will be there while you need it, and then disappear after you don't," the company said in a statement.
Alongside WhatsApp, other messaging apps (Snapchat, Telegram, Signal, Facebook Messenger) have also started offering similar functionality.
A similar feature is also available on Telegram app. However, unlike WhatsApp, the Telegram allows you to decide the duration before the messages disappear in a chat.
The highlight of Snapchat was the feature of deleting Snaps after they've been opened. It also deletes unopened Snaps sent to a group chat in 24 hours, and all other unopened Snaps in 30 days.
Also read: How To Use Google Assistant Voice Commands On Android Apps
We hope the above-mentioned article was helpful. Let us know in the comments section below,
More related stories below: