YouTube has added a new Digital Wellbeing feature that will help you sleep on time at night. It is available on Android and iPhone devices. Read more to find How To Use Bedtime Reminders Feature On YouTube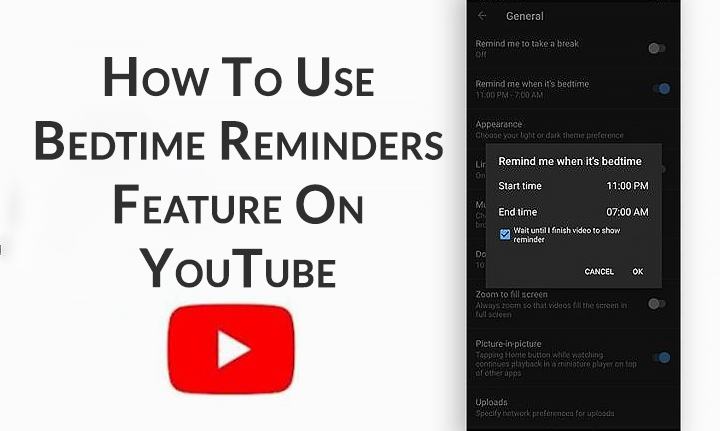 The new Digital Wellbeing feature (called "bedtime reminders") on YouTube will help you log off late at night. It will join the video streaming platform's wellness and screen time tools together like "take a break" reminders.
Also read: How To Use Maps Timeline Feature To See Pictures On Routes During Trips
The new feature is available for both Android and iPhone devices. Here is how to use it:
How To Use Bedtime Reminders Feature On YouTube
Update the YouTube app on your smartphone
Now, sign in to YouTube > Go to Settings
Next, find "Remind me when it's time for bed" > Turn it on or off
Then, select a start and end time for the reminder
Alternatively, you can tap on your Profile Picture > Time Watched to turn on bedtime reminders
Note: To finish your video before seeing the bedtime reminder, you can select "Wait until I finish my video to show reminder".
Additionally, you can snooze the reminder to turn it off temporarily for 10 minutes.
Also read: How To Create Cinematic Images On Google Photos
Conclusion
Due to th ongoing pandemic, the video streaming has gone up dramatically. The new feature will help people take a break from watching videos on their smartphone and sleep on time.
YouTube claims that the new bedtime reminders will allow users to "set reminders at specific times to stop watching videos and (you guessed it!) go to bed."
"You set start and end times in your Settings, including whether or not you want the prompt to interrupt a video or wait until the video is over. You'll also be able to dismiss or snooze the reminder," it added.
Also read: How To Make WhatsApp Video Calls From Your Laptop Or PC
We hope the above-mentioned article was helpful. Let us know in the comments section below,
More related stories below: