Zen Mobiles India has launched the Ultrafone Amaze 701 FHD at a price of Rs. 17990 introductory price just ahead of the Diwali festival season in India. The Zen Ultrafone Amaze 701 FHD takes it to the next level with a full HD display and a 1.5 GHz quad core CPU with MT6589T chipset. There is 1 GB of RAM and 16 GB internal memory with a memory card slot for further expansion of memory on the Ultrafone 701 FHD. For the introductory offer, Zen has included a smart magnetic cover with a cutout window free with the phone and it may continue to bundle the same.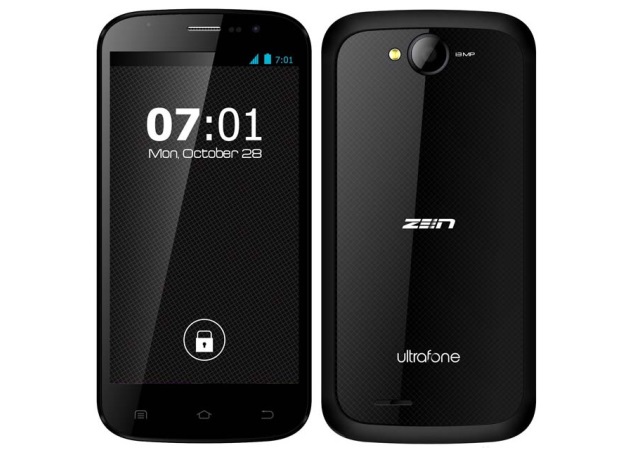 We have got our hands on the Zen Ultrafone Amaze as it is launched and we have done a comprehensive video review of the same which you can watch below:
Zen Ultrafone 701 Amaze FHD Video Review By Intellect Digest
Zen Ultrafone Amaze 701 HD Specifications and Features
Zen Ultrafone Amaze 701 HD is the flagship smartphone from Zen as of now with leading specs and features. Talking of the vital statistics of this phone it gets:
Full HD IPS LCD with OGS
Android Jelly bean 4.2.1
1.5 GHz Quad core CPU by Mediatek
1GB RAM
16 GB Internal memory (11 GB user memory)
Memory Expansion slot with up to 64 GB microSD card support
Dual SIM
3G / WiFi / Bluetooth 4.0
13 MP Rear camera with BSI 2 sensor from omniviosion with 5 layered coated lens
Rear camera with auto focus, LED Flash and  full HD video recording at 30 fps
Gorilla Glass 2 at front
Textured acrylic back with gorilla glass protection
Battery life of 2050 mAh
Magnesium alloy frame for strong build
Zen Ultrafone Amaze 701 FHD VS Micromax Canvas Turbo VS Gionee Elife E6
Zen Ultrafone Amaze 701 FHD  competes head-on with the likes of Canvas Turbo and Gionee Elie E6 with the fact that all three phones use same chipset, same processor and same GPU. They all have Fulll HD display, but there is difference in other specifications.
First area where there is a difference is RAM, the Amaze 701 FHD from Zen gets 1GB RAM compared to the 2GB RAM with the Canvas Turbo and Elife E6. But does it really make a difference? Maybe it does when playing heavy games and doing lots of multi-tasking, but our experience with 701 FHD says that it does not matter that much. Of course the gaming is impacted with heavy games like Asphalt 7 or 8 and MC4, but for moderate games, it does not matter much.
The internal memory on Canvas Turbo is 16 GB fixed (no card slot), on Elife E6 its 32 GB fixed (again no card slot) but on 701 FHD it gets 16 GB with a card slot for expansion. In a way, it may seem less than the E6, but with the price difference of around Rs. 4000 compared to E6, 701 FHD seems ahead.
Coming to camera and build quality, and 8 MP camera on front makes it superior than the Turbo and E6 with 5 MP front facing camera. The rear 13 MP camera on Zen Ultrafone 701 FHD seems average with average picture quality. All these three have more or less similar rear camera performance.
Overall, the Zen Ultrafone Amaze 701 FHD with its aggressive pricing will good competition to the Canvas Turbo and Elife E6 with its higher value for money proposition. We will keep you updated on more comparisons, so stay tuned to us by liking us on Facebook.
More related stories below: