Zoom has become quite popular during the ongoing lockdown. However, several official agencies have started raising privacy concerns. Read more to find 10 Video Calling Alternatives To Zoom App Amid Security Concerns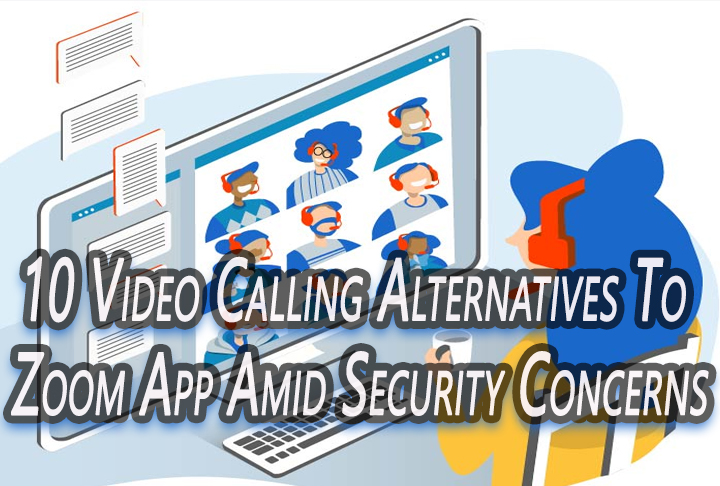 Face-to-face communication is important, even if you are working from home. Thankfully, video conferencing technology solves this problem.
Zoom allows for simple, easy setup meetings or regular meetings in your personal meeting room. It is ideal for anyone who works remotely or has remote team members.
The popular app is also a great option for working in very large teams. You can also record and broadcast your meetings for future reference.
However, the video calling app has raised several red flags. Now, multiple government agencies have issued warnings coz of privacy concerns.
Luckily, there are many video conferencing solutions that allow teams to work together from different locations.
Also read: 10 Apps To Keep Track Of Your Projects While Working From Home During Lockdown
There are many options available online. Some of them are great for 1-1 conversations, some for teams, and others for live broadcasts.
Let us help you choose free video-conferencing software. Here's a list of 10 Video Calling Alternatives To Zoom App Amid Security Concerns:
Skype
Up to 10 people on video calls
HD video calling
Screen sharing
Video call recording
Interactive video chats
Location sharing
This is a good tool to video chat from your computer/ phone/ tablet with a small group or a 1-1 conversation.
The free version of Skype works for small teams with less than 10 members. There is also a special tool called Skype in the Classroom for online education.
Google Hangouts
Up to 25 video participants
Video, audio, and messenger conversations
Video meeting recordings
Screen sharing
Join calls using Google Calendar
Google Hangouts is a simple way to connect with Google contacts. It can be used for personal or business reasons.
This tool is ideal for individual conversations, team meetings, recorded demos, etc.
Also read: 5 Apps To Maintain Health While Working From Home During Lockdown
Facebook Live
Broadcasts up to four hours
Advanced scheduling
Custom audiences
Facebook Live is a great tool to broadcast demos, videos, or showcase their company culture while streaming live.
Your followers on Facebook can comment and chat live. You can even select a custom audience and schedule videos ahead of time.
YouTube Live
Three stream quality options (normal latency, low-latency, ultra-low latency)
Added delay
Advanced scheduling
Live questions from the audience
Live automatic captions
Private live streams
YouTube Live is a platform for demonstrations, educational sessions, explain a product to your audience.
You can use screen sharing or use a whiteboard. A Private live stream only works for people with an access link.
FreeConference
Up to 5 online meeting participants
Screen sharing
Document sharing
Moderator controls
Text chat
FreeConference is easy to use as it requires no downloads. It also offers moderator controls to keep the meeting on track.
The video conferencing app is ideal for meetings with five or fewer participants.
Also read: 10 Apps To Maintain Communications While Working From Home During Lockdown
UberConference
Unlimited conferences
Up to 10 participants
HD Audio
Screen and document sharing
Call recording
Mobile apps
The free version limits your video call duration to 45 minutes. It is ideal for shorter meetings with small teams.
Appear.in
Up to four participants
Custom URL/meeting space
Locked rooms
Screen sharing
Stickers
Video chat
The free version offers a nice amount of features for individuals and small group conversations.
Appear.in can be used by remote employees, remote freelancers, or those working with clients.
TrueConf Online
Up to three participants on team calls
HD video
Screen sharing
Remote desktop control,
Recorded calls
File transfer
Shared virtual whiteboard
A free plan allows up to three participants in video calls. It is great for small teams or individuals.
You can easily host video calls or collaborate with small groups. Collaboration features include remote desktop control.
Also read: How To Make Video Conference Calls On Skype Via 'Meet Now' Feature
Slack Video Calls
Group calls of up to 15 people
Individual calls
Messenger
This is a great way to ask a teammate a quick question. You can simply use the command/ call or clicking the phone icon at the top of the conversation with another Slack user.
Users can also Slack with up to 15 people if you start a call from a channel, enabling the rest of the channel's members to join.
Amazon Chime
Easy-to-use calls
Builtin chats
Screen sharing
The sleek app offers good video quality and latency as Zoom. It comes with easy-to-use calls, built-in chat, and a screen sharing tool.
Users can start standard text chat rooms to keep conversations going and start a video call right from the room.
Additionally, you can schedule calls. Chime calls everyone's desktop or mobile Chime installs, Participants can just jump on the call.
We hope the new article was helpful. Please share your views with us in the comment sections below.
More related stories below: