The Elder Scrolls V: Skyrim is an open world action role-playing video game. The game was developed by Bethesda Game Studios. Recently, Sony released a surprise trailer for Skyrim VR at E3 2017. However, while the trailer was met with huge excitement, it also left a lot of fans confused. How is Skyrim VR different from regular Skyrim? Read more to find all we know so far about The Elder Scrolls V: Skyrim VR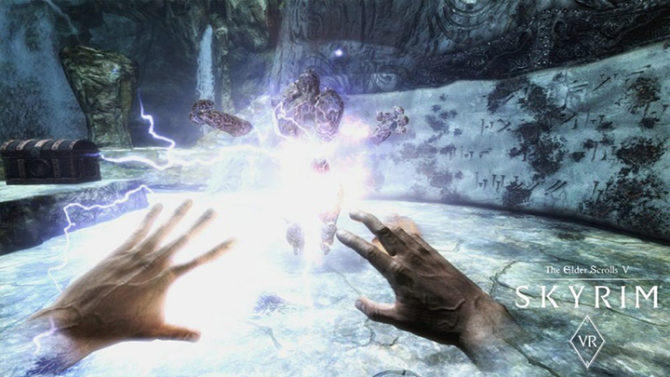 Price & Availability
The Skyrim VR is available for pre-orders at $60 via the PlayStation Store. While there is not a specific release date, the new game will be available in November 2017. While the Skyrim VR was revealed for PlayStation VR, it was not clear whether there will be HTC Vive and Oculus Rift versions. However, the company recently took to Twitter to state that they plan on supporting as many platforms as they can.
Also read: Xbox One X Launched: Here's All You Need To Know
Features
The Skyrim VR lets you experience the same gameplay as the regular version with the PlayStation VR head-mounted display. This adds a whole new dimension to the gameplay. The new game comes with expansion DLC packs. The three expansion DLC packs include Dawnguard, Hearthfire, and Dragonborn.
Movement
According to the E3 reveal trailer, the Skyrim VR uses standard locomotion for movement. The game does not seem to a teleportation method for normal walking and running. Both are simulated. It remains to be seen if teleportation option will be available in the complete version.
Controls
The Elder Scrolls V: Skyrim VR can be controlled with a DualShock 4 controller or the PlayStation Move controllers. At E3 2017, Bethesda VR offered the E3 attendees a first look at the game. A video from the same showed a player using two PlayStation Move controllers to work his way through the game.
Also read: How to Play 90's Video Games On Your PC Right Now
Conclusion
We will have to wait and see how the new virtual reality game fares. Bethesda's E3 announcements included VR versions of Skyrim, Doom and Fallout 4. These popular IPs are expected to increase VR adoption among consumers. While Bethesda doesn't yet have the same hold in the VR segment as Ubisoft, it is getting there. Will the Skyrim VR bring its user base along to the new platform? Share your opinion in the comments section below.
Also read: Asus Zenfone AR with 8GB RAM Launched – All You Need To Know
More related stories below: