Have you ever wondered how easy will online payments become if you did not have to carry your card all the time or alternatively cram the card number, expiry date and security codes? Making a card payment requires lot or focus to enter the card number correctly, to enter expiry dates which is usually followed by another level of authentication. American Express has launched an innovative service called eZeClick which helps to make online payments so much easier.
All you need to do is to register your existing Amex card with the easy click service and create a user id. All you need to remember now is this one user id. Whenever you have to make a payment, just select eZeClick from the list of options at the payment page, enter your user id and you will immediately receive an OTP (one-time-password) by email and SMS which you can enter to complete the payment process.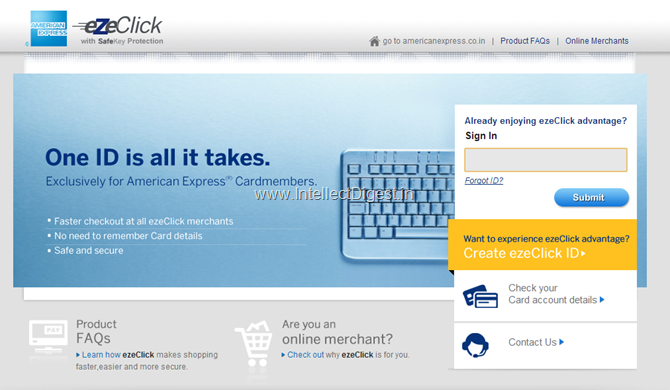 Also read- Step By Step Instructions To Register And Make Online Payments Through ezeClick?
In my experience with the eZeClick service in past sometime, I have found it to be much easier as I don't need to carry the card with me when I am making the payments, all I need is my phone or computer to receive the OTP via SMS/e-mail and remember my user id which is a simple id which I can choose while registration.
Also one more benefit of eZeClick service is that you can add your secondary/ add-on cadrs for different users with different numbers and email ids if you have multiple cards linked to your American Express credit card account. In case you don't have an American Express card, you can apply for one here. If you are an existing customer, you can start using eZeClick by registering here. There are no extra charges to use this service for Amex Card holders and its fast, easy and very secure too. Do share your views and suggestions in the comment section below.
More related stories below: