Apple has started seeing India as one of their most important markets(finally), and India now gets the products from the stable of Apple pretty much at the time of the global launch. The company recently announced the iTunes store for the Indian music lovers and now they have gone on to launch their Apple TV service in the country. It comes at a slight premium over other media streaming services but then it's Apple and they deserve a bit of a premium. Apple TV has been priced at Rs.8,295 in India.
Apple TV has been officially launched by the company in the country with their website getting updated regarding the same with the product hitting in the retail stores in next 7-10 days. Most of us are unaware of this service so let us explain to you what exactly is the Apple TV. Apple TV is essentially a media streaming gadget which will let you steram content from popular media streaming websites like YouTube, Netflix, Hulu Plus, and Vimeo. But the device has no storage capacity.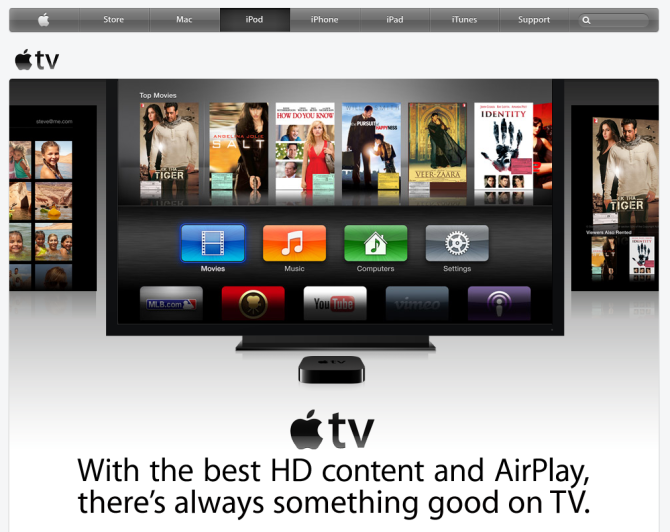 But what you would end up using the most through it will be the Apple's iTunes music store from where you can buy for favourite content and the same time it can stream all your stuff from Apple's propreitary services/gadgets which would include your iPhone, iPad, Mac and iTunes wirelessly over the Wi-Fi network. Facilitating these would be AirPlay, another one of Apple's services up for the taking. What most of us would love doing would be using the Apple TV to mirror the content on the display screen of iOS gadgets as well as on your iMacs.
Apple TV will support screen resolutions of up to 1080p and it has got all the possible connectivity ports as well. An HDMI port, a micro-USB port, Ethernet port, a built-in IR receiver and WiFi. The heart of the device is an A5 processor and it is coupled with 512 MB of RAM and to cache your content, it will come with a 8 GB NAND flash memory. The iTunes store for us came to life a few days ago and you can make use of its full functionality with the help of Apple TV. And Apple TV can make use of the iTunes store. So it is a package deal which you might just love end up owning.
More related stories below: