BookMyShow has launched a new video-on-demand streaming platform in India. It allows you to buy or rent movies like Tenet, Wonder Woman 1984, etc. Read more to find about BookMyShow Stream Price in India and Features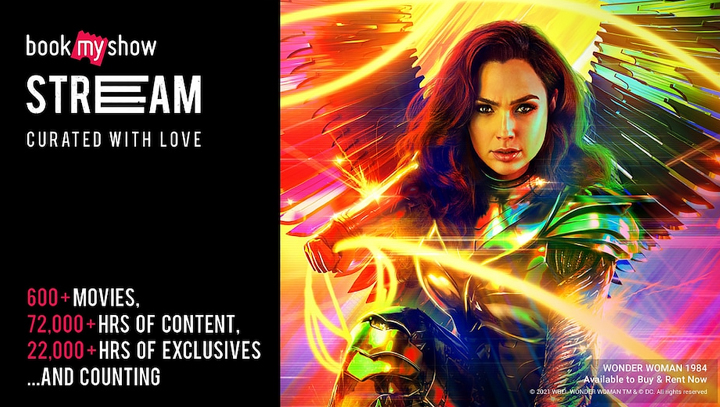 Now you can watch buy or rent movies like Tenet and Wonder Woman 1984 from BookMyShow's new video-on-demand streaming platform.
The BookMyShow Stream will also offer international film festivals content as well. It is now available on Apple TV, Android TV, Fire Stick, and on BookMyShow's mobile app.
The new platform offers over 600 movie titles and 72,000+ hours of content to watch online. It also features multiple marquee premieres every Friday and recent film that are still in the cinemas.
Also read: Samsung Galaxy M02 With 5,000mAh Battery Launched At Rs 6,999
The BookMyShow Stream will offer services like Friday Premieres, Exclusives, World Cinema, Missed in Theatres, Festival Favourites, and dedicated Bundles that offer multiple titles together.
The new platform will allow users access to features such as downloads, offline viewing, and casting.
The video streaming quality is listed to be in HD. Different movies and TV shows are listed at different prices. For example, Wonder Woman 1984 is available at Rs 549 to rent or Rs 799 to buy.
While renting a movie on BookMyShow Stream allows access only for 30 days, if you buy a title, you can watch it any time after purchase. However, you have only two days to watch the rented movie once the playback has started.
Also read: Samsung Galaxy M12 Launched With 6000mAh Battery – All You Need To Know
Conclusion
The transactional video-on-demand (TVOD) segment by BookMyShow comes in response to the effect of COVID-19 pandemic on the entertainment business.
BookMyShow claims that the BookMyShow Stream features a handpicked, specially curated library of over 22,000 hours of content exclusive to the platform.
The company has partnered with Sony Pictures, Warner Brothers, Universal Pictures, Viacom18, Shemaroo, Rajshri Productions, Divo, and Sillymonks to offer a variety of content.
Additionally, BookMyShow Stream is one of the first Indian streaming platforms to host content from independent film distributors like PictureWorks, Superfine Films, Impact Films, Kahwa Entertainment, and VR films.
Content from international film festivals like Cannes Film Festival, Venice Film Festival, Berlin International Film Festival, and Sundance Film Festival will also be available to buy or rent.
In India, films like Tenet and Wonder Woman 1984 are also available for streaming on Apple TV and Google Play. Now users can also choose the BookMyShow Stream instead of going to the theatre.
Also read: Poco M3 With 6000mAh Battery, 128GB Storage Launched in India
Are you excited to try out the new streaming service?/////////////////////// Please share your views in the comments section.///////////////////////////////
More related stories below: