In the current lockdown, keeping yourself occupied can be pretty hard. Lets us help you have fun while staying in touch with your friends. Read more to find 10 Browser Games To Play With Friends Online When Stuck at Home During Lockdown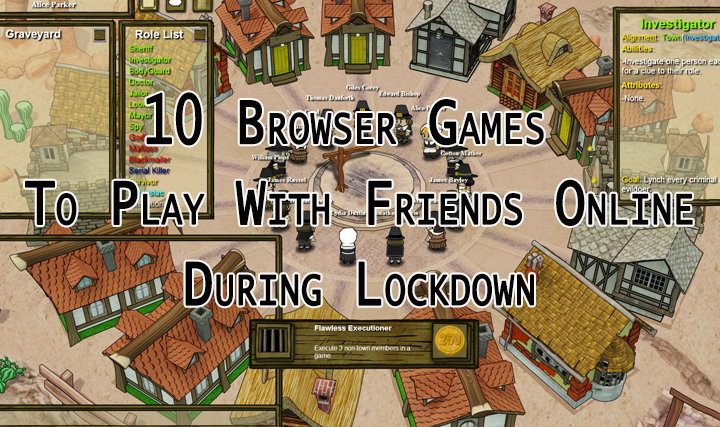 While staying home, one can easily run out of things to do. It can be tricky to stay in touch with all your friends and peers.
Browser games are an easy solution to this problem. Apart from fun with friends, they serve as a simple break from work.
Also read: 5 Apps To Maintain Health While Working From Home During Lockdown
There are many browser games that can be played with friends and family members. You don't need a console or a game-ready PC to have some fun time.
Let us suggest 10 Browser Games To Play With Friends Online When Stuck at Home During Lockdown:
Town of Salem
In this game, some of your friends are the mafia and others are townspeople. You have to figure out which is which.
Agar.io
The classic game lets you compete to become the biggest circle in the arena.
You can choose from multiple variations such as Slither.io (uses snakes instead of circles) and Powerline.io (combines Agar.io with the old Nokia snake game).
Also read: 10 Apps To Maintain Communications While Working From Home During Lockdown
CubeSlam
This variation on the classic Pong offers more one-on-one experience. To play with a friend, you just send them a link to the game.
All you need to do is bat a ball to each other's side of the board. There are various obstacles to avoid along the way.
Additi\nally, you can also use your webcams to look at each other on the other side.
Also read: 10 Free Video Conference Tools To Work From Home During Lockdown
Canasta
Canasta is a card game of the rummy family. It is most commonly played by four in two partnerships with two standard decks of cards.
You have to make melds of seven cards of the same rank. Features include live opponents, game rooms, rankings, extensive stats, user profiles, contact lists, and private messaging.
Spades
The four-player online card game is quite fun to play with friends. You can pair up with a partner.
Jungle Gin
In this tropical take on the two-player card game classic, you can build your runs/ sets and unload your deadwood.
Also read: 10 Mobile Games To Play With Friends Online When Stuck at Home During Lockdown
Dominoes
In the online version of the classic game, you can play against a computer opponent or a friend.
Bingo Luau
The free tropical-themed bingo game by Pogo lets you match the pattern on your Bingo cards before anyone else calls 'BINGO'.
Pogo Bowl
The online bowling game comes with retro graphics, cool sounds, and realistic gameplay. You can go head-to-head online bowling with up to 20 players.
Also read: Huawei P40 5G, P40 Pro 5G, P40 Pro+ 5G Launched With Up to Five Rear Cameras
We hope the new article was helpful. Please share your views with us in the comment sections below.
More related stories below: