Sitting at home can easily put you in slumber. However, there are a few solutions that can stimulate your brain in a healthy way. Read more to find 10 Mobile Games to Keep Your Mind Sharp While Staying At Home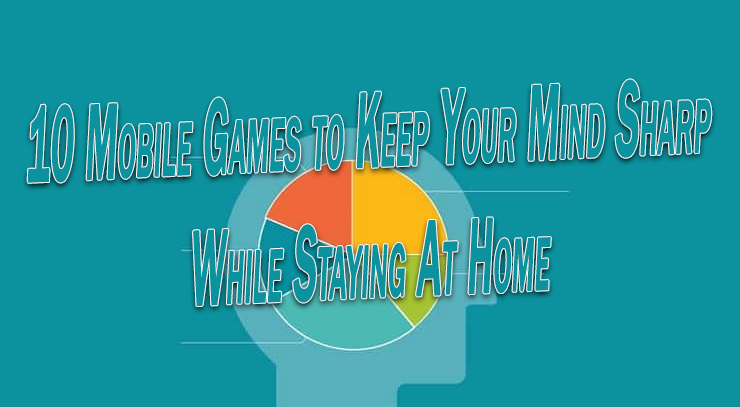 Humans are essentially problem-solving creatures. Sitting in one place, looking at a screen can take its toll on our mind.
Additionally, most online content and social media are designed to be addictive. Technology is used to trap us in an endless loop.
However, you can also use modern tech to your advantage. There are many 'brain training' software that aim to engage our neurons and toughen them up to make us even smarter.
Also read: 10 Free Video Conference Tools To Work From Home During Lockdown
Now, you can use your smartphone to engage in short sessions. The gaming mode makes learning and training easier.
Let us help you find some tools to amp up your mental abilities. Here's our list of 10 Mobile Games to Keep Your Mind Sharp While Staying At Home:
Lumosity
The popular app has a community of over 70 million users. It offers a variety of brain exercises to increase memory and mental ability.
The program evaluates you in a number of areas and then creates a training plan to follow for 15 minutes a day.
While the base program is free, you can purchase a subscription to access to a wider variety of activities.
Circles
The minimalist app is based on the classic 'Simon' game of pattern memorization. It challenges you to watch and repeat a sequence of colored lights and sounds.
While the 'Circles' involves a single activity, it can help you improve your short-term and long-term memory. You can also play against friends.
Also read: 10 Online Games To Play With Friends Online When Stuck at Home During Lockdown
Eidetic
This interesting app uses mental principles like 'spaced repetition' to help you remember anything. The cloud storage allows you to train your memory from any device.
Eidetic essentially asks you to select a piece of information that you want to store. Then, it interrupts you at irregular intervals to quiz you on it.
CogniFit Brain Fitness
CogniFit uses 10 challenges to measure cognitive ability, memory, and spatial perception.
The CogniFit Brain Fitness uses numerous exercises and challenges to improve brain function.
Also read: 10 Browser Games To Play With Friends Online When Stuck at Home During Lockdown
Elevate
Unlike most apps on this list, Elevate has language at its core. All tasks revolve around reading, writing, and listening.
Just like Lumosity, you can access to more activities with paid accounts.
BrainHQ
This app has been created by an international team of over 100 neuroscientists. It offers over 25 different exercises and tests.
Users can work with pre-designed brain fitness regimens or develop their own curriculum. The system regularly monitors your progress.
In addition to pattern recognition and attention tracking games, BrainHQ also includes a game where you connect people's faces, names, and job descriptions.
Also read: 5 Apps To Maintain Health While Working From Home During Lockdown
Clockwork Brain
This suite of mini-games aims to polish your cognitive abilities. It features a retro steampunk look.
Each session chooses four exercises at random. You have to answer as many questions correctly as possible within a set time limit.
As you perform better, the difficulty increases. You also earn in-game currency to unlock additional exercises and options.
Math Workout
The popular app lets you practice math at a variety of skill levels. It also monitors your progress.
Apart from improving math skills, the app can help you keep your brain sharp.
Also read: 10 Apps To Maintain Communications While Working From Home During Lockdown
Xperica HD
The Xperica HD focuses on the physical sciences. It simulates a number of principles like hydrostatic motion and lets users manipulate variables to see the results.
100 Logic Games
The game pack features 100 different activities that help you to stretch your problem-solving and logical reasoning skills.
Also read: 10 Mobile Games To Play With Friends Online When Stuck at Home During Lockdown
We hope the new article was helpful. Please share your views with us in the comment sections below.
More related stories below: