Keeping yourself occupied can be pretty hard while staying indoors. Gaming is a great solution to stay engaged while interacting with your friends. Read more to find 10 Games To Play With Friends Online When Stuck at Home During Lockdown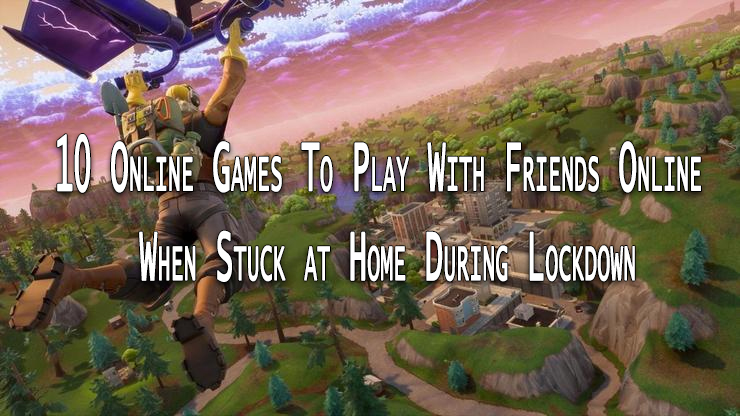 Due to the current global crisis, it is best that everyone keeps maintaining social distance. However, that should not stop you from having fun with your friends and peers.
Online gaming is a great social activity that doesn't need physical proximity. You can choose from multiple online multiplayer games, depending on your taste.
Also read: 10 Browser Games To Play With Friends Online When Stuck at Home During Lockdown
Let us suggest a few games you can play with your friends from the comfort of your home. Here are 10 Online Games To Play With Friends Online When Stuck at Home During Lockdown:
Fortnite
The popular online game lets players collaborate to survive in an open-world environment. You battle other characters who are controlled either by the game itself or by other players.
In addition to the single-player or co-operative mode (played with friends), you can also choose Fortnite Battle Royale (up to 100 players enter an online game).
Cards Against Humanity
The card game offers a family-friendly option and a raunchier one. Each round, one player asks a question from a black card, and everyone else answers with their funniest white card.
Roll20
The tabletop RPG offers a virtual setup for everything from Dungeons & Dragons to Call of Cthulhu. This is a great game to play online.
Also read: 5 Apps To Maintain Health While Working From Home During Lockdown
Call of Duty: Warzone
The free-to-play battle royale video game is a part of the 2019 title Call of Duty: Modern Warfare, but does not require the purchase of it. You can drop in, armor up, loot for rewards, and battle your way.
Stardew Valley
This game does not require you to throw yourself into a massive online multiplayer environment. The multiplayer option allows you to use your friends as itinerant workers on your farm.
Minecraft
The popular multiplayer game allows you to mine for resources, build structures, and defend territory.
Also read: 10 Apps To Maintain Communications While Working From Home During Lockdown
Jackbox Party Pack
You get five fun games in one great pack that can be played with friends and family. It allows you add up to 10 participants.
The fun and absurd game is available on almost every console and PC gaming store. You can also play over Zoom, Google Hangouts, and Discord.
Monopoly on Pogo
The old school board game is fun to play with friends. Although you have to create an account in order to start a game
Also read: 10 Mobile Games To Play With Friends Online When Stuck at Home During Lockdown
Grand Theft Auto Online
The multiplayer action-adventure game allows up to 30 players. You can easily friends to an open session.
The open-world design lets players freely roam San Andreas. You can explore the open world and engage in cooperative or competitive game matches.
Red Dead Online
The multiplayer online game is the online component of Red Dead Redemption 2. You can invite anyone on your friends list to join you.
To add a player, simply bring up the player menu by pressing Left on the D-Pad, select Players, and select a player to join.
Also read: 10 Free Video Conference Tools To Work From Home During Lockdown
We hope the new article was helpful. Please share your views with us in the comment sections below.
More related stories below: