There are different methods available for capturing screen shots in Windows PCs whether its Windows 7 or 8. And there is also many types of software available for download that lets you allow capturing a complete screen or desiring part of screen. But here we are only going to talk about the some basic, easy and useful methods that let you allow capturing images whether you are using a program or any Internet browser. YES, A snipping tool is also out there with windows that lets you allow to capture images. But if you want to capture image in fast and quick way I will not suggest you Snipping tools. I am going to tell you Keyboard shortcuts and about paint only.
Capture Screenshot In Windows 8
For Windows 8, I will suggest you only one way to capture images. In many PCs and Laptops there is a Prnt Scrn( Print Screen) button on your keyboard. For capturing a complete screen just hold the Windows key and press the Print Screen button, that's it. It will save your captured image into Image library folder.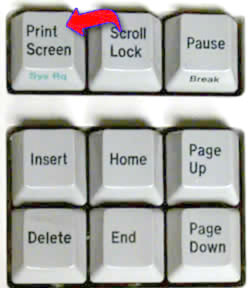 Steps for capturing Images in Windows 8
(1)   Hold the Windows Key
(2)   Now press the Print Screen button
(3)   Your image is saved in Images folder
(4)   That's it.

But now if you want to remove some portion of captured image OR if you wants to capture only desire part of screen, how can you do that, let's talk. Just follow the above steps, means capture complete part of the screen and then right click on the image and choose Edit. It will open your image in paint. If you are aware of using paint then I think there is no need to talk about how to crop or select an image in paint.
Capture Screenshot In Windows 7
Yeah, Microsoft has launched Windows 8 and it is going to launch Windows Blue too. But many of us, still using Windows 7. But that's not a problem we are discussing here, we are talking about capturing images in Windows. For capturing a image you need to just press Print Screen button, it will not capture image but it just copies the complete screen. After doing that open Paint by clicking the Start button , clicking All Programs, clicking Accessories, and then clicking Paint. Now in the paint click Edit and click Paste, or press Ctrl + P. As it is keyboard shortcut for pasting. And finally save it in your desire folder.
Steps for capturing Images in Windows 7
(1)   Press Print Screen button
(2)   Open Paint
(3)   Use Ctrl+P keyboard shortcut
(4)   Save the image in desire folder
In some laptops and PCs there is not a Print Screen button built in. On that PCs there might be other keyboard combinations like FN+INSERT. It will allow you to do same functionality that Print Screen button do.
For More Stay tuned with Intellect Digest India and like us on Facebook or follow us on Twitter.
More related stories below: