Facebook has unveiled two new video-chat cameras. The Facebook Portal is a new video camera and screen built for chats with family and friends. The Portal+ features a smart speaker, video camera, and a digital frame. Read more to find about Facebook Portal, Portal+ Price in India, Specifications, and Feature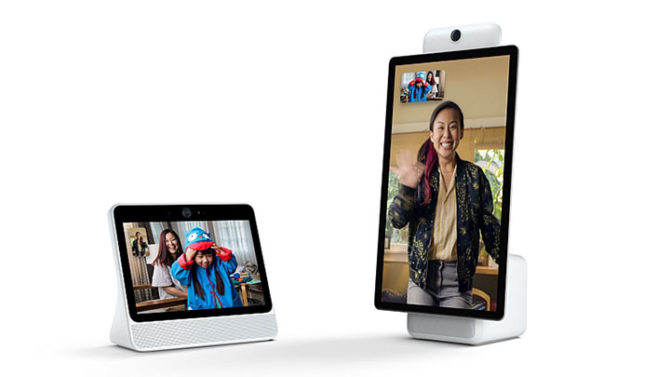 Price and Availability
The Facebook Portal is now available for pre-order online. It will arrive in stores in November.
Also read: Honor 8C To Be First Smartphone Powered By Snapdragon 632 SoC
Specifications and Features
10-inch/ 15.6-inch touchscreen display
12-megapixel sensor
140-degree field of view
Voice controls
Subject tracking
Augmented-reality masks
Pre-loaded video/ music apps
The new video-chat camera is designed to be a part of your living room. It essentially upgrades the Skype or FaceTime video-chat experience (experienced on a smartphone or laptop/PC). The Facebook Portal sports a 10-inch touchscreen display. Whereas the Portal+ features a 15.6-inch HD display that can swivel between vertical and horizontal views.
The sleek camera sports a 12-megapixel sensor (similar to most smartphones) with a 140-degree field of view (it can identify the shape of people in it). The camera pans and zooms to keep people in the frame. This allows you to move around the room, do chores, play with the kids, etc. If tap on the face of one person, the Portal camera will track just them.
The smart camera also follows voice instructions for calling contacts. For example, you can just say "Portal, call Simon" and it'll ring Simon's home Portal or the Facebook Messenger app on his smartphone/ PC. Portal has a partnered with Amazon. It comes with Alexa's voice and intelligence. The new camera system can take commands, play music, set timers and answer questions.
While you are not taking calls, the new screen displays images from Facebook. You can choose a shared album. It works with your existing Facebook Messenger account and allows you to add info from your closest Facebook friends such as birthday reminders. It also comes with apps like Facebook Watch, Spotify and Pandora. However, there's no YouTube as yet.
Also read: How To Book Uber, Ola Cabs Via Google Assistant On Your Handset
Additionally, the Portal allows you to share music over a chat. You can also use augmented-reality masks (add bunny ears, funny glasses and other computer-generated effects to your face). Also, you can use an AR storybook mode to add animated effects to your chat screen while you read a children's story. As of now, there are no ads on the Portal.
In terms of security, Facebook claims that your friends can't look into your house anytime they want. Video chats have to be explicitly accepted before the camera cuts on. While a button on the top cuts off its microphone and camera, you can also keep a plastic privacy shield over the camera. Also, the Portal's video chats are encrypted and not recorded. This means that the company can't see or hear what you're talking about.
Also read: OnePlus 6T Pre-Bookings Now Open On Amazon India – All You Need To Know
Conclusion
The Facebook Portal is similar to the Amazon's Echo Show and Smart Display devices from Google. All these devices are essentially smart speakers with screens to display information or allow video calls.
"We want to remove people from feeling that they are on a call – to the feeling of just being together," said a Facebook official. However, privacy remains a concern for everything related to the social network giant.
What do you think of the new video-chat camera from Facebook? Will you try out the new Facebook Portal or Portal+? Share your thoughts with us in the comments section below.
More related stories below: