Facebook has unveiled a new 'Watch' video tab to expand its viewership. The new tab will offer original shows from Facebook's content partners to attract TV viewers. The new video hub is yet another step by Facebook to take on Youtube. Facebook videos have seamlessly integrated into the social network. The new section is bringing short episodic series to increase video watching habits on Facebook. Can it take over Youtube, Netflix and T.V.? Read more to find about Facebook Watch Video Tab Feature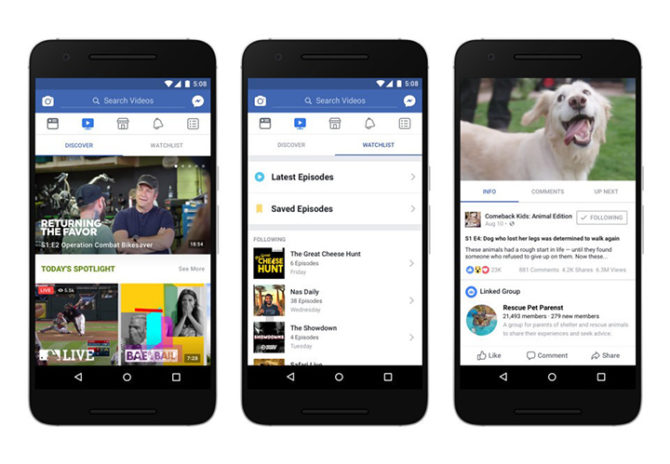 Availability
The Facebook Watch will be initially available to a limited group in the US. Users will be able to access the 'Watch' on Facebook's mobile app, website and television app.
Content
The content will be provided by the likes of Vox Media, BuzzFeed, ATTN, Group Nine Media, etc. In May this year, Facebook had signed deals with several youth-focused news and entertainment creators to produce shows (both scripted and unscripted). The initial short form shows will include Women's National Basketball Association, a parenting show from Time and a safari show from National Geographic. Facebook is already broadcasting some Major League Baseball games. The social network clearly aims to take on both TV and Youtube at the same time.
The company aims to eventually open the platform to any show creator as a place to distribute videos. However, it will have to address the long-standing issue of revenue sharing with content creators.
Also read: WhatsApp Adds Facebook Like Colored Status
Conclusion
Facebook added a video tab last year. Since then, it has been filled with short form content from various channels. Unlike Youtube, Facebook videos play randomly related content quite seamlessly. The autoplay option has been a huge help as users have become used to it over time.
Also, the sponsored videos tend to reach more users, who are not necessarily looking for such content. The social network allows viewers to consume content and interact with friends at the same time. Letting users discovering videos in News Feed is a unique advantage.
Now, it is bringing original and well-produced videos. Being the world's largest social network, it is bound to attract a large number of eyeballs. The Watch video tab will act as a dedicated place on Facebook to watch videos. Users will be able to chat and connect with people who like the same shows. Facebook hopes to keep users watching video on its apps for longer periods by making the content more social.
Also read: How To Play Secret Games On Facebook Messenger
Facebook is taking on the traditional television networks along with new streaming models like Netflix and YouTube. The new platform might produce some interesting content. We will have to wait and see.
More related stories below: