WhatsApp has rolled out new colored text status feature for Android and iOS devices. The messaging app has been testing it in beta for a while. The new feature will allow users to write their status update with a colorful background, font and emoji combination. Read more to find about WhatsApp Colored Status Feature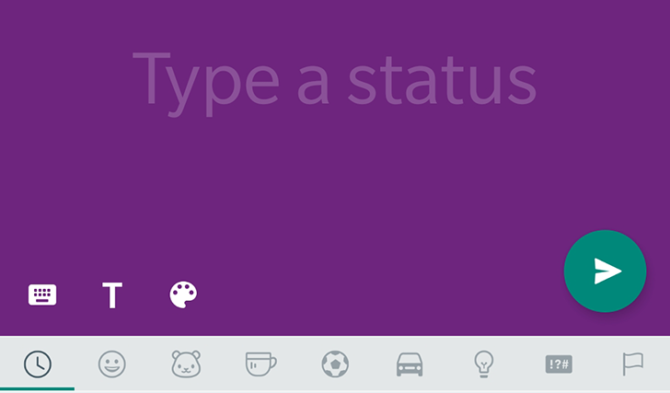 The Facebook-owned app has been testing new features for a while. Apparently, the new feature was initially rolled out in February and so far has reached more than 250 million daily active users. Recently, there has been a trade-off of new elements between all Facebook apps including Instagram and Whatsapp. Instagram's Stories feature has already made it sway to WhatsApp. The new colored-status feature is the latest trade. As of now, not all users are seeing this feature. It has been remotely activated. Some users might have to wait for the full-fledged rollout.
On iPhone devices, the pen icon now shows up next to the camera icon in the new Status bar. Tapping on the pen icon brings options of typing status, selecting a font, emoji, and background color. The new status appears after hitting the green arrow icon at the bottom right to post Status. The published status is visible to all contacts.
On Android devices, the floating pen icon shows up at the bottom of the Status tab, above the camera icon. The WhatsApp for Windows Phone does not support the new feature. Also, on the WhatsApp for Web, you can only view these text statuses and not create them.
The new WhatsApp Status feature comes with additional privacy settings. Users can decide who can view their updates. You can pick from 'my contacts,' 'contacts except…', 'only share with…' and 'only share with'. Tap on the eye icon at the bottom of any Status update will show how many of your contacts have seen the update.
Also read: WhatsApp Recall Feature Coming Soon: Here's How It Works
Facebook started rolling out colored text status feature for Android in December last year. However, it has been only started popping up recently. You can add background colors to text-only posts. It does not work for video posts, image uploads, and URLs. The social networking app offers more than ten background color options including white, yellow, yellow and orange gradient, red-orange, green and blue gradient.
Also read: New WhatsApp Upgrade for iPhone users: Albums, Filters
Recently, WhatsApp introduced new Album, Filters and Reply shortcut feature for iOS users. The app is also planning to bring an even cooler feature called WhatsApp Recall. The upcoming feature takes inspiration from Gmail Undo option. It lets you delete an unwanted message till up to five minutes.
WhatsApp is currently available in more than 50 different languages (includes 10 Indian languages). It has 1.2 billion monthly active users (200 million monthly active users in India). The much-needed new features will work towards strengthening the application's user base. Excited about the new Colored Status feature? Lets us know in the comments section below.
Also read: How To Use One WhatsApp Account On Two Phones At Same Time
More related stories below: