All the apps, images, music and videos can fill your smartphone memory quite quickly. In fact, you might not even notice this until you try to install a new app. 'Insufficient storage available' can be a huge headache for budget or mid-range devices with small storage space. In some cases, the Android operating system often gets clogged with cache files and refuses to install new apps. This can happen after you transfer data from your system space to an SD card. Getting irritated by the 'Insufficient Storage Available' messages? Let us help you in clearing system space on your device. Read more to find How To Fix Insufficient Storage On Android Smartphones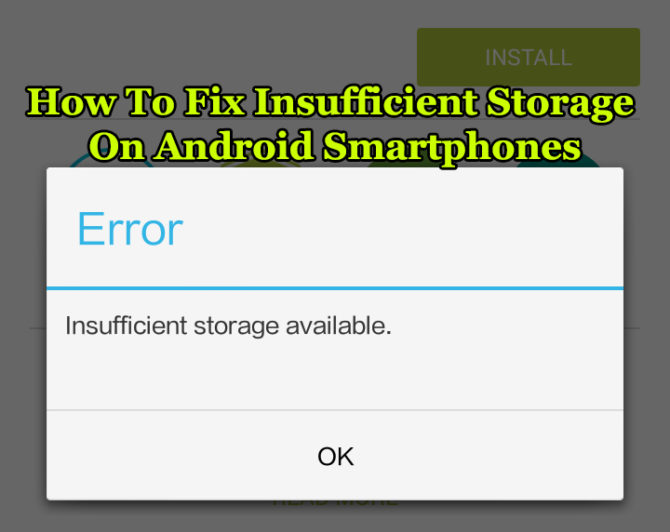 You can make more space on your Android smartphone by deleting junk files and clearing the cache. While you might not be facing this problem on account of a larger internal storage, cleaning out junk can make your device run more smoothly. Here's how you can fix the 'Insufficient storage available' error message quite easily:
Uninstall Unused Apps
The Google Play store offers a plethora of free apps in every category. Smartphone users often end up installing multiple apps for the same purpose. Sometimes you might install an app for a single use only. These forgotten apps keep sitting in your apps folders taking up system space. Some of these keep getting regular automatic updates too and end up taking even more space. Take a few minutes to browse through your phone and delete all unused and unwanted apps.
Open the Settings menu.
Select Apps.
Choose an unused app from the list tap on it.
Choose Uninstall.
You can also uninstall these apps from the home screen or apps folder itself. Just tap and hold on an app. Drag it towards the top of the screen. Choose Uninstall icon to form a pop-up.
Clear Your Downloads folder
This is one of the most hidden memory occupiers on your smartphone. The Downloads folder stores almost every kind of documents, files, etc. you might have downloaded while browsing or checking your emails. Cleaning out all the unwanted files will clear up a lot of space.
Open the pre-installed File Manager app on your device.
Simply browse to your Downloads folder.
Select and delete anything you don't need.
Also read: 10 Best Security Apps for Android Devices
Clear Whatsapp Media
Whatsapp is one of the most used apps on most smartphones. Not only does it display a lot of junk from different sources/groups, the app also stores it on your phone. While the received images can be seen in the phone gallery and easily removed, the sent images are hidden in a different folder. If you are a frequent Whatsapp user, make sure you clean it from time to time.
Go to File Manager app > Local > Internal.
Next, tap on WhatsApp > Media > Images > Sent folder.
Delete anything you don't need.
Remove Images/Videos from System Storage
Smartphone galleries are often filled with a load of unwanted, duplicate and bad pictures/videos. These continue to eat up a lot of system space. While the best option is to go through your smartphone gallery regularly and delete all the junk media. You can also use Google Photos to back up your images/videos. Once the backup is complete, you can just delete everything from your smartphone. Now, you can access your pictures and videos from any device with your Google account. However, you will have to install the Google Photos app.
Alternatively, you transfer these to an SD card or your PC via a USB cable.
Also read: Should You Root an Android Smartphone? Pros & Cons
Empty Android's cached files
You have cleared out all the files you could. However, you are still receiving the 'Insufficient storage available' error message. Don't worry. It is time to clear your Android's cache.
Go to Settings > Storage.
Tap on the Cached data.
Press OK to a pop-up when it prompts you to clear cached data.
You can also manually clear the app cache for individual apps by going to Settings > Apps, selecting an app and choosing Clear Cache. Also, select the Junk Files tab and clear it.
Use a Cache Cleaner App
If all else fails, you can choose multiple free apps to clear your system cache for you. Just head over to Google Play and install an app like App Cache Cleaner. Once installed the app will inspect your phone and show you the current cache on it. You can clear all of it or make an exception for certain apps.
Also read: How To Set Up Your New Android Smartphone Quickly
Conclusion
Maintaining a regular check on your smartphone memory can boost the performance and battery life. We hope our tips on 'How To Fix Insufficient Storage On Android Smartphones' were helpful. What trick do you use to solve the 'Insufficient storage available' error message? Share with us in the comments section below.
More related stories below: