Thanks to changing technology and attractive deals, one often ends up with new smartphones. Whether it is a Samsung flagship or Motorola budget smartphone, you want to to get it going as soon as possible. However, restoring your apps and customizing settings can be quite time-consuming. Do you want to personalize your new smartphone in a snap? Read more to find about How To Set Up Your New Android Smartphone Quickly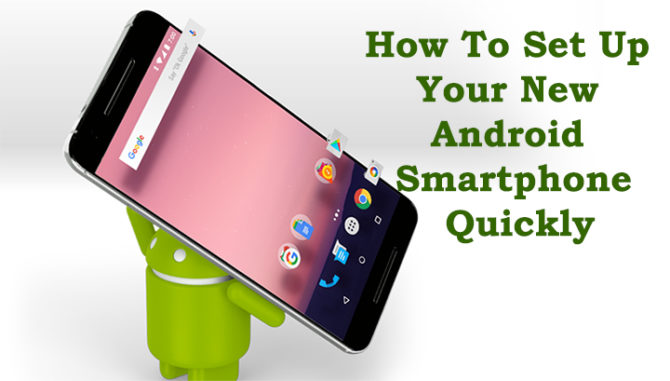 Changing settings, building your contact list, and installing your favorite apps can prove to be a tedious task. However, it doesn't have to be so. If your smartphone runs Android Lollipop or later operating system, you can easily avoid the completely manual approach. You choose from multiple solutions including NFC and linked Google account.
How To Set Up Your New Android Smartphone Quickly
Android Tap & Go
The Tap & Go method uses NFC (near field communication) to transfer data between your new and old smartphone. However, your new smartphone needs to be running Android Lollipop, Marshmallow, or Nougat OS.
Just start up your new device.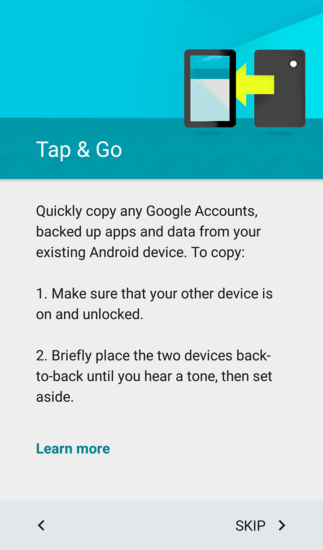 You will get an option to use Tap & Go.
Next, enable NFC on both phones.
Tap the backs together.
Now, your data (including Google accounts and apps) from your old handset will start transferring to the new one.
If you use Google Now, your home screens will also be restored.
That's it. You don't have to do anything.
Also read: How To Customize Your Android Smartphone Look
Restore Via Google account
What if you don't have your old handset with you? Or it doesn't have NFC? You can still get your new smartphone personalized quite easily. Your Google account allows you to restore selected apps from any of your registered devices.
Just start up your new device.
Skip 'Tap & Go' options during setup.
Select the restore option. You can choose which of your devices you want to restore from. Also, you can choose exactly what you want to be transferred to your new smartphone.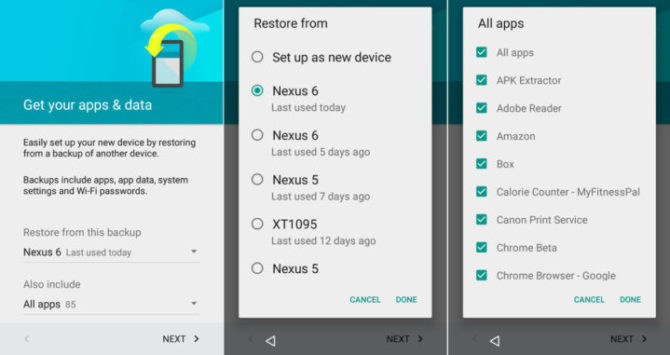 Any smartphone associated with a Google account can be restored.
Also read: How To Enable Google Chrome's Hidden Reader Mode For Android
Use Quick Switch Adaptor
As of now, this option is only available to Google Pixel owners. The Pixel devices ship with a quick switch adaptor.
Just connect your new and old smartphone with the Switch Adaptor.
Choose what you'd like to transfer.
That's it.
You can connect this adapter to any device running Android 5.0 (Lollipop) or later versions. It also works with iPhones running iOS 8 or later.
Sync your contacts
Even you still decide to set-up your Android smartphone from scratch, simply choose the 'Set up as new device' option. However, you don't need to manually feed in all your contacts. The contacts synced with your Google account will automatically carry over once you sign into your Google account.
Also read: How To Use One WhatsApp Account On Two Phones At Same Time
Conclusion
Also, remember to check for updates on built-in apps, and customize your notifications. The new Marshmallow and Nougat updates offer multiple new options which are worth exploring. Additionally, check the compatibility of your smartphone accessories with your new device. You might want to upgrade or just add in new ones which your old phone didn't support. Dou you use any other tips on 'How To Set Up Your New Android Smartphone'? Share with us in the comments section below.
More related stories below: