Google Allo for Web has been finally announced. However, the web client for the messaging app will only work with Android devices and Chrome browser, as of now. You can try it on Google Chrome with the latest Allo build on Android. Were you waiting for the web support for the user-friendly app? Read more to find about Google Allo For Web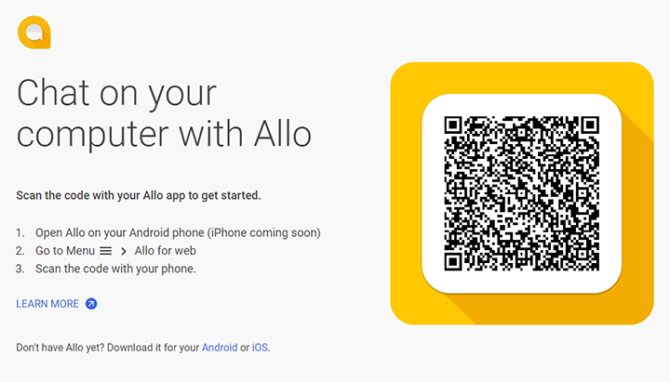 Google Allo was announced alongside the video calling app called Duo at Google I/O 2016. Fans of the messaging app have been waiting for a web version since then. Finally, Google has given the go ahead for the web client. For now, it will only work with an Android smartphone and Google Chrome Browser. This can be done by scanning a QR code.
Just like the WhatsApp Web, the Allo web client pairs with the Allo app on your smartphone. Here's how it works:
Go to Allo for web page via CHrome browser on your desktop – https://allo.google.com/web
Open the Allo app on your Android smartphone.
Go to menu and select 'Allo for Web'.
Scan the QR code on your desktop with your phone.
That's it.
Please note that the Allo for web will stop working if your handset runs out of battery or you quit the mobile app. According to Google, the QR code is unique to your computer and pairs the mobile app to the computer. Allo for web shows what's on the mobile app.
Also read: How To Play Google Assistant Games In A Web Browser
Google Allo
Google Allo is a new a smart messaging app for Android and iOS devices. It is quite similar to Google Hangouts. However, the new app adds multiple user-friendly applications to smartphone messaging. In addition to chatting with your friends, you can even make plans, search stuff, play games, etc. all within the app.
The Google Allo comes with built-in Google Assistant. It assists you by answering all kinds of queries. You can check your flight status or reservations without leaving the app. Additionally, Allo comes with a whole list of stickers, doodles, and HUGE emojis & text. Also, the Smart Reply allows you to keep the conversation flowing with a single tap by suggesting text and emoji responses based on your personality. Google claims that the app keeps improving as you use it.
So far, the app has seen more than 21 million downloads in India. You can easily download the light app from Google Play Store. Once you download it, the app should automatically install on your smartphone.
Also read: How To Use Deep Blue Feature In Google Photos
Conclusion
The Google Allo has the potential to be a great communication tool in the near future. It is definitely one of the most user-friendly messaging apps. The app takes into account the chatting habits and adds to chatting experience. The much-awaited addition of a web client is a great move by Google. With tough competition from WhatsApp, it will be interesting to see the innovative app make its mark.
More related stories below: