Last year in May, the search engine giant launched its virtual personal assistant at Google I/O. Later, it showed up in Google Allo app and Pixel smartphones. Google has programmed its artificial intelligence (AI) system to help users in various ways. Along with interactive suggestions, it also allows you play cool games. These fun games can be a great relief at times. And you don't need to Google Allo app or own a Pixel device to access these. All you need is an internet connection. Read more to find How To Play Google Assistant Games In A Web Browser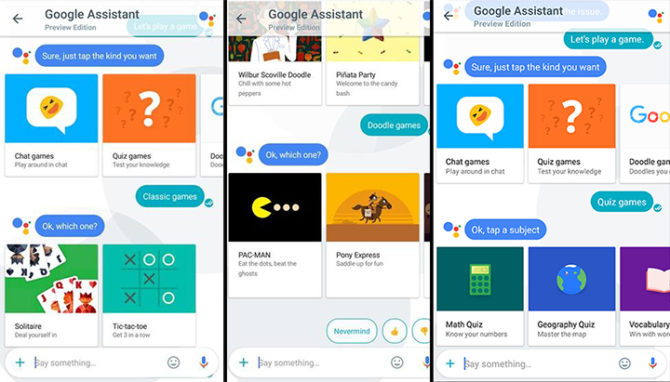 Google Assistant is essentially an extension of Google Now. It takes the 'OK Google' commands further. It combines all the Google Now features with a new artificial intelligence algorithm which is designed for smarter and interactive conversations. The search engine giant launched its own personal assistant to take on Apple Siri, Microsoft Cortana, and Amazon Alexa.
In the Google Allo app, you can activate the Google personal assistant by typing '@google' followed by your request or query. The AI responds within seconds. As a fun option, it also allows you to request for a game. You can choose from four different categories of games – Chat Games, Quiz Games, Doodle Games, and Classic Games. Once you tap one of these categories, the AI expands that particular category to offer more options and responds with 'Ok, which one?' You can access all these multiple game choices in your web browser too. Not just on Google Chrome, but any web browser will do.
Also read: How To Find Your Parking Spot In Google Maps
Here's How To Play Google Assistant Games In Your Web Browser
Open Google Allo.
Request for games.
Choose a category from four options.
Now, turn off your network connection.
Select your preferred game.
Next, a web page will pop up with a message – 'There is no internet connection.'
Find the website URL shown beneath in bold. Copy this.
Open the copied URL in your browser and bookmark it.
Connect back to a network.
Now, you will be able to play Google Assitant games on your smartphone.
That's it.
Google is still working on a web version of its messaging app, Google Allo. However, you can use the same URL on your PC to enjoy these simple games. We hope our list tip on 'How To Play Google Assistant Games In A Web Browser' was helpful. Have you tried Google Allo or any of the Google Assistant games? Let us know in the comments section below.
Also read: How To Use One WhatsApp Account On Two Phones At Same Time
More related stories below: