Modern smartphones are powerful devices with great multimedia and processing capabilities. We are practically carrying computers in our pockets and maybe that's all you need. You can carry out most everyday tasks on your smartphone. However, despite ever growing screen sizes, there is a limit to the display sizes. Not many people can enjoy a video at the same point on a smartphone. Let us help you transfer your smartphone display to your TV. You can easily sit back and enjoy your favorite movies and TV shows via your handset. This trick is particularly useful for accessing streaming services like Netflix or Amazon Prime without a streaming box. Here's How to Connect Your Android Smartphone to Your TV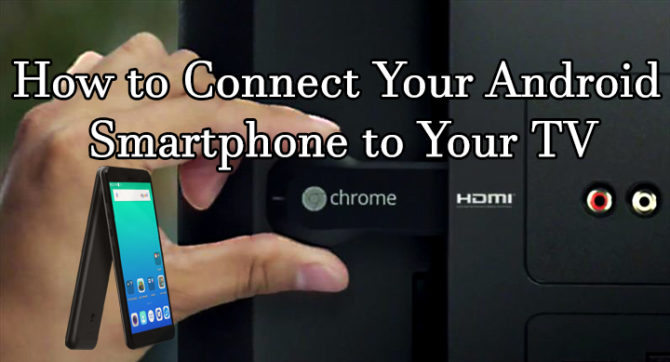 Google Chromecast
The wireless solution is the easiest way to play your smartphone content on your TV. The Chormecast dongle uses your Android device to stream content. Basically, it casts your smartphone screen to your TV. The cheap solution is compatible with most Android and iOS devices. You can easily cast videos from Chromecast compatible streaming apps (Netflix, Hulu, etc) to your TV screen.
It is quite easy to setup Google Chromecast. Just plug the dongle into your TV and attach the power cable. Download and launch the Google Home app. Once the app detects the Chromecast, you will be able to establish a connection.
Alternative Wireless Solutions
The Chromecast alternative is a little comparatively expensive option. The new Roku boxes support casting. The wireless solution allows you to easily mirror your smartphone screen to your TV. However, both devices need to be on the same network. Other third-party options include Belkin Miracast Video Adapter and the ScreenBeam Mini2.
Also read: How To Setup WiFi Hotspot On Android Smartphone
For Loyal Samsung Users
If you all your devices are from Samsung, you get a surprise option. The company allows you to connect your Samsung smartphone/tablet with a Samsung HDTV. The Samsung-to-Samsung only works if your devices support casting. You can easily check this on the TV menu. Just go to Network option and search for Screen Mirroring. On your handset, check for 'Screen Mirroring' or 'Smart View' option.
Connect To HDTV Via 'Micro HDMI to HDMI' Cable
This is the cheapest solution on this list. However, it is not commonly available. If your Android device features a Micro HDMI port, all you will need is a Micro HDMI to HDMI cable (costs almost same as a regular HDMI cable). Once you connect the cable to both ports, just switch the TV's source to the HDMI port via TV remote. That's it. Make sure your smartphone is in landscape mode. The only side-effect is that you won't be able to use your handset while watching content simultaneously.
Also read: How To Use One WhatsApp Account On Two Phones At Same Time
Connect Your TV Via MHL
MHL or Mobile High Definition Link is basically a 'Micro-USB to HDMI' adapter. It is perfect for devices which don't have a micro-HDMI port. However, before getting one of these, make sure your device supports MHL. For example, new Samsung devices don't support MHL and other protocols for sending video and audio over USB. You can find a list of all mobile devices that support MHL here.
This solution works in a similar fashion as the 'Micro HDMI to HDMI' Cable connection. All you have to do is make sure your smartphone is in landscape mode.
Connect Via SlimPort
The new technology works with a range of devices, from smartphones to cameras. It can easily pass audio and video to a television or monitor. However, the growing SlimPort tech is limited to few devices (Samsung Galaxy S8, LG V20, Amazon Fire HD tablets, etc) as of now. You can find a list of all mobile devices that support SlimPort here.
To setup SlimPort, you will need a SlimPort adapter and an HDMI cable. It also works similar to the Micro HDMI to HDMI' Cable connection.
Also read: How To Play Secret Games On Facebook Messenger
Conclusion
All these options work very well based on your device and needs. However, if you are confused, the Google Chromecast is the easiest to use. Which solution do you use to connect your Android smartphone to your TV? Share with us in the comments section below.
More related stories below: