You have just finished the latest episode of your favorite TV show. However, it ended with a cliffhanger. Unfortunately, it is not comfortable and cheap to use your smartphone's internet connection. You don't have to wait for a WiFi connection anymore. You can now customize the app to load your favorite shows automatically. Read more to find about How To Automatically Download New Netflix Episodes On Your Smartphone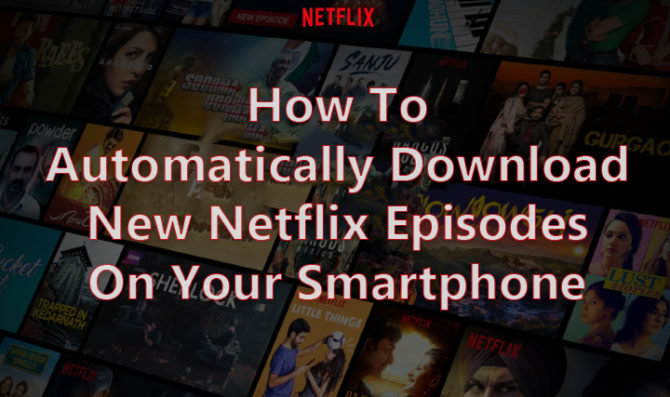 Netflix app is one of the most convenient ways to get a daily dose of entertainment. Around the globe, subscribers can stream great series and films. The app allows you to download movies and TV shows to your smartphone, at no extra cost. You easily catch up on your favorite TV shows/ movies while traveling (on airplanes, etc).
With the download option, you can continue binge-watching experience without incurring high internet charges. Just click the download button (while connected to WiFi) on the details page for a film/ TV series to watch it later.
The 'Download' feature works with all plans and Android/ iOS devices (smartphones/tablets). Additionally, the app automatically downloads new episodes of your favorite TV shows once you've finished the ones stored on the device (it deletes the episode you just watched from your device).
Currently, the 'Smart Downloads' feature only works on Android devices with a Wi-Fi connection. Netflix will not download the next episode if you finish watching an episode over the cellular network. Let us help you activate the new useful functionality (if not enabled by default):
Also read: How To Use Facebook Watch To Find New Shows & Videos
How To Automatically Download New Netflix Episodes On Your Smartphone
Update your Netflix app to the most recent version.
Tap the "More" icon at the bottom of the display.
Scroll down and tap 'App Settings.'
Make sure the toggle next to 'Smart Downloads' is blue.
That's it. Enjoy your favorite TV series without the streaming issues (caused by internet connections).
Also read: How To Send Voice Messages On Instagram Direct
Conclusion
The 'Smart Downloads' feature is very easy to use. Now, when you finish watching a downloaded episode on your device, the next episode will automatically be downloaded in its place (if you're on Wi-Fi network).
Also read: How To Use Android Messages For Web On Your PC
What do you think of the new 'Smart Downloads' feature on the Netflix app? Which TV show are you excited to binge on? Share your views with us in the comments section below.
More related stories below: