Recently, Facebook revealed that 50 million of its user accounts have been compromised in a major hack. Now, reports claim that this personal data is available for sale on Dark Web. The popular social network is always at risk of illegal hacking. However, you can safeguard your account by using a two-factor authentication. Read more to find How To Protect Your Facebook Account With Two-Factor Authentication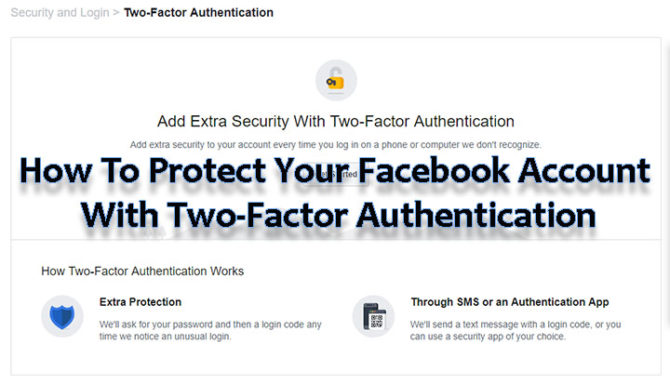 The two-factor authentication is a security feature that protects your Facebook account (in addition to your password). Once two-factor authentication is set up, users are asked to enter a special login code or confirm your login attempt while accessing Facebook from a new computer or mobile device.
Also read: How To Control Streaming, Download Quality On YouTube Music
Here's How To Protect Your Facebook Account With Two-Factor Authentication
Clicking in the top-right corner of Facebook and navigate to Settings > Security and Login.
Go to Security and Login section.
Scroll down to Use two-factor authentication and click Edit.
Click on Get Started button and choose the authentication method you want to add.
You can select 'Text message' or an 'Authentication App.'
Click 'Next' and follow the on-screen instructions.
The 'Text message' (SMS) option needs codes from your mobile phone. Whereas the 'Authentication App' uses login codes from a third party authentication app. Once you set up one of these on your account, you can customize the following options:
Approving your login attempt from a devices Facebook recognizes.
Using one of your recovery codes.
Tapping your security key on a compatible device.
When you turn on two-factor authentication, you will be asked to save the computer or mobile device you're using. Once confirmed, won't have to enter a security code when you log in again.
However, don't click 'Save this browser' if you're using a public computer. Facebook remembers your computer and browser information to recognize future logins. You might have to enter a code after your clear your browser history.
Also read: How To Identify Songs Playing Near You Via Google Sound Search
Conclusion
Social media accounts are a great way to gain insight into someone's life. This makes online identities very valuable to companies for the purpose of targeted advertising. Such details are also an easy way for identity theft.
Hackers can easily take control of your accounts, lock you out or secretly spy on you. Hence, it is better to stay alert and use features like a two-factor authentication for protection. Also, stop using Facebook to log in to apps and sites online.
What do you think of the new Facebook hack? Are you using the two-factor authentication online? Share your thoughts with us in the comments section below.
More related stories below: