Recently, Apple launched its new iPhone model. The expensive iPhone X comes with a new unlocking technology called Face ID. Apple claims that the new tech works even if you put on glasses, grow a beard or get a different hairstyle. The new feature even works in the dark, thanks to a Flood Illuminator. However, you can get the Face ID feature on any Android device. Read more to find about How To Use Built-In Face ID Feature On Android Smartphones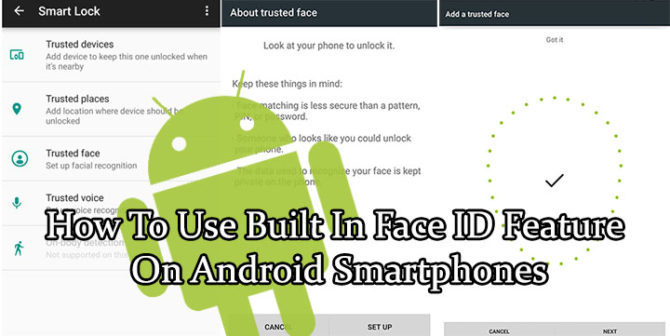 Google has been offering a new Smart Lock system for a while now. It offers various options to unlocking your handset. The 'Trusted Face' option is quite similar to Apple's new Face ID feature. It works with devices running Android 5.0 Lollipop or later. Here's how you can use the new feature on Android Smartphones:
Enable a Secure Lock Screen: First thing you will need to do is enable the lock screen on your device. You can choose from a pattern, a PIN, or a password.
Just go to Settings menu. Find the Security option and navigate to the Smart Lock option.
Select Trusted Face option. This will take you to a welcome screen that explains the feature.
Now, press the Set Up button and tap on Next.
Your device will show your front camera's view with an area circled in red. Just line-up your face within this area. It should turn to Blue progress bar, once the system scans your face. Make sure you are in a well-lit area.
Once the circle becomes entirely blue, tap Done.
Next, you can choose 'Improve face matching' option to scan your face again. This helps in better recognization. You can move to a different location with slightly different lighting and angles. You can also do it later.
That's it! You are all set up.
To unlock your device, make sure to angle the phone to where it can see you. You will see a small silhouette icon at the bottom of the lock screen. Once this icon changes into an unlocked icon, you can simply swipe your screen to open your smartphone.
Also read: How To Use Google Smart Lock On Android Smartphones
Conclusion
While the Android feature is fun to use, it is not as secure as the Apple's Face ID system. It seems that Apple is offering an improved version of Android Face Unlock. It uses extra sensors, flood illuminator, and a dual camera setup to offer better security. Are you impressed with the Apple's Face ID feature? Will you rather try the Android's Trusted Face feature? Let us know in the comments section below.
Also read: How To Play Google Assistant Games In A Web Browser
More related stories below: