HTC has not had the best of times for a long time but the company is looking to change things for itself in near future. The company has already launched the HTC One, its flagship smartphone and now the company is looking towards strengthening its mid range smartphones and two new smartphones from the stable of HTC have showed up, HTC Desire Q and HTC Desire P.
The Desire P will be dearer one out of the two smartphones and will be priced around Rs.20,000. It will be the successor to the Desire SV and looks a lot like that. A 4.3 inch WVGA display will be adorning the front of the smartphone and powering the device will be a 1 GHz dual core processor which will be coupled with a 1 GB RAM. The smartphone will get a 8MP camera at the rear and a front camera as well.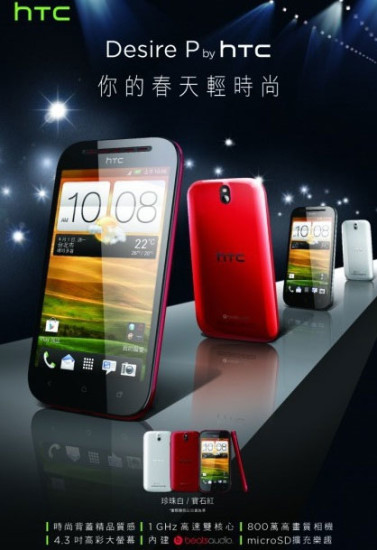 The Desire Q will be the entry level smartphone and is expected to be priced around the Rs.10,000-12,000 mark. It will have a 4 inch display and other details about it are scarce as of now. The Desire P will come in Red and White colours whereas the Desire Q will get the black colour in addition to the colours found on the Desire P. Both the smartphones will get Beats Audio branding.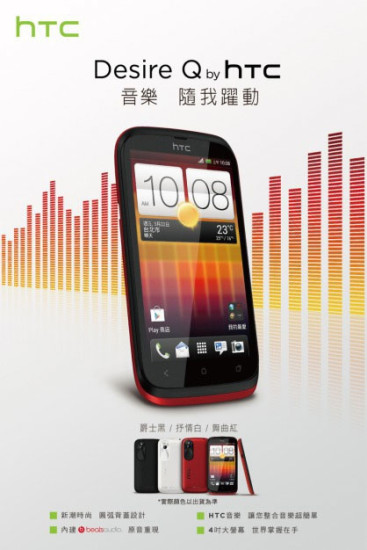 The leaked press shots are for Chinese markets which indicate towards the fact that these smartphones will be launched firstly in China. They will run most probably on Android 4.2 Jelly Bean and a Android 5.0 Key Lime Pie update is highly unlikely. The Desire P will be competing with the Lumia 720 and the S2 Plus when it gets launched. The Desire Q will compete with the Lumia 520 and the yesteryear Xperia smartphones when it gets launched. HTC has a strong top end and now they are working towards strengthening their mid range.
More related stories below: