Updated On 29th March 2013
As per the latest rumors, The Nexus 5 will have a full HD 1080p Display with a 4.5 inch screen which will be an IPS display. It is also speculated to have a large 2800 mAh capacity and the camera capacity will be a 9 Megapixel CCD sensor at the rear.
The processor will be a 1.5 GHz Qualcomm Snapdragon 600 chipset architecture. It will be interesting to see how things shape up for LG Google Nexus 5.
via- PhoneArena
Updated On 19th March 2013
Google has a thing for producing a great device when it comes to bringing in the Nexus range of devices. The Nexus 4 is still out of stock at a lot of places and LG did a great job with it. If we did not know it was LG made, nobody would believe it was a LG product. When people are still waiting to get their Nexus 4, the rumours have emerged that Google has turned to LG for producing the next Nexus smartphone, the Nexus 5.
Google is reportedly working on a lot of prototypes for finding the right flagship smartphone and the one from LG has been codenamed the Meglodon which was a prehistoric shark. The Nexus 5 will hit the retail stores around October. What can be made out from the leaked picture is a device with straight sides and curves at the corners of the smartphone with the LED notification light being present at the bottom of the device.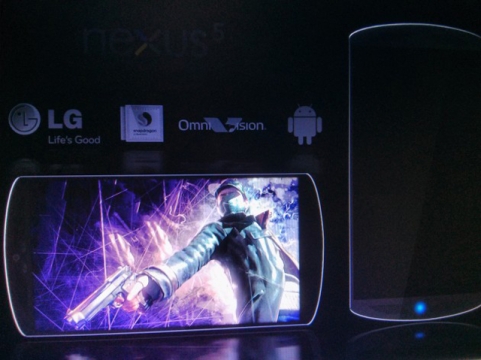 Nexus 5 will have the Qualcomm Snapdragon 800 as its heart. It is a quad core chipset with the cores being clocked at 2.3 GHz. There will be a massive 3 GB RAM to support it and that would be the first time that amount of RAM will be made available on a smartphone. The display will be OLED and the resolution of the device will be 1080p. It will come with memory options of 16 GB, 32 GB and 64 GB like the iPhone.
LG will raise the bar in the camera department by putting in a 16 megapixel camera module which will be capable of 4K video recording . It will feature a 2.1 megapixel front camera and the battery unit will be a 3,300 mAH battery unit. It will feature gesture controls like the Galaxy S4. The technical specifications of the leaked Google device look like those of the eutopian smartphone but who knows it might become a reality as well. And price tag, $299, anyone?
Source: Android And Me
More related stories below: