We recently brought you a comparison between two proper budget tablets- the Nexus 7 and Galaxy Tab 2. Today we have for you a quick comparison between the flagships of our two homegrown brands-Lava and Karbonn. One your one corner is the Lava Xolo A800 and on the other is the Karbonn A30.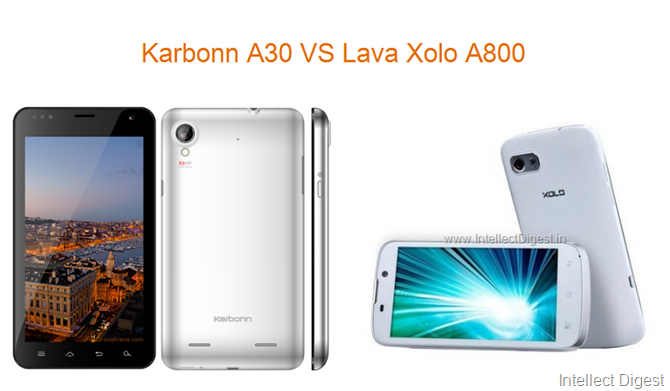 Round 1- Display
The A30 comes with a humoungous 5.9 inch display with a resolution of 800×480 pixels and even though it looks quite the shining star , it can be quite the problem when being used in public places or in low lights. It even surpasses the gigantic Note II. On the other hand , the Xolo has a 960×540 resolution 4.5 inch display which is an IPS LCD unit and appears to be more compact and pocketable. It depends entirely on you as to what your preferences are when you're buying the handset. Compactness or a size larger than life.
Winner : Tied
Round 2 – Camera
Both the flagships come with an 8 MP auto focus snapper at the back accompanied with a LED flash . Where the difference creeps in is the secondary camera where Karbonn has a slight edge over its rival. It features a 1.3 MP camera in the front compared to the VGA resolution of the Xolo A800. But upon usage , the Karbonn's snapper appears to produce somewhat better pictures than its 8 MP contemporaries.
Winner : Karbonn A30
Round 3 – Battery
Karbonn A30 features a 2500 mAh battery compared to the 1600 mAh battery in the Xolo A800. But it needs more juice to power the bigger screen . That said , Karbonn might just manage to have a little more juice than the Xolo due to a lower resolution. But real usage may differ.
Winner : Karbonn A30
Common Specifications:
Both Karbonn A30 and the Xolo A800 come with dual core processors clocked at 1 GHz. They both run on Stock Android ICS 4.0.4 , come with 512 MB of RAM and 32 GB of expandable storage. Bluetooth, Wi-fi and 3G are standard on both the variants. They retail for Rs.11,500 and Rs.11,999 respectively.
Conclusion– Karbonn A30 VS Xolo A800
Its the battle of Compactness versus Gigantism. I am avid gamer and have a thing or two for clicking pictures every now and then. I will go in for the Karbonn A30 as both are priced similarly and it offers a better camera and a way bigger screen for gaming. But hey, you need bigger pockets to fit it too. So if carrying the bulky gadget around is a bit of a problem for you, go in for the Xolo A800. You would not regret either ways.
More related stories below: