When Intel was looking for companies to use its chipsets in Android devices, not many came forward because the applications were always going to be limited due to the architecture of the chipsets. So, the Indian mobile maker Lava came forward and the result was Xolo X900 which was way way more an Intel product rather than a Lava product. But the brand's aspirational value never really let the very capable (read as superfast) smartphone set the sales on fire.
Now Lava has been in news for quite some time since it's been locking horns with the Indian mobile giants Micromax and Karbonn in the so called Premium Budget segment by offering the Xolo A700 and Xolo A800. But then again, there is always another market you could venture into and Lava has just entered a new segment with its budget offering, the Iris N400 Dual SIM Android smartphone which has been priced at Rs.6,399. It will be powered by a 1500 mAh battery and shall have 512 MB of RAM and 127 MB of internal memory which can always be expanded by 32 GB via a microSD card.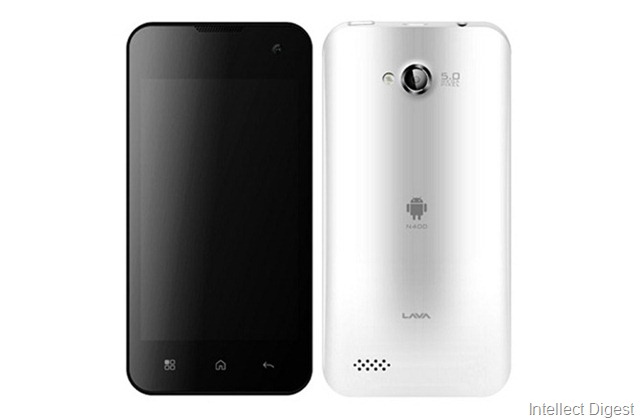 The device runs on Android 4.0.4 which is pretty much the norm these days. It has a 4.0 inch capacitive display and is powered by a 1 GHz processor. It has a 5MP camera at the rear with flash and a VGA front camera for front calling. Lava is really upping the ante with offering as much features as possible on their budget phones and they're just loading them up pretty well. It shall compete with the Karbonn A15 and the Micromax A68 which are similarly priced and have a similar spec-sheet. It comes with G-Sensor, Proximity Sensor and Ambient light sensor.
It scores over the A15 in terms of camera resolution whereas the Micromax offering lacks 3G. Since Lava wanted to pretty much nail the product, they even brought 3G to this. Completing the connectivity suite are Wi-Fi and Bluetooth. It has packed in everything its competition missed and looks quite solidly built. But then again, Micromax and Karbonn have a better brand value ( Yes, they do! ) and people might just buy their offerings over the Lava's budget phone. We hear Intel is readying up a sub-Rs.7,000 phone in association with Lava. Now that is what we call a segment leader.
More related stories below: