Micromax and Microsoft has partnered to launch a lineup of Windows Phone for India. What is even more interesting is that these phones will be powered by Qualcomm processors and not by Mediatek as opposed to what we have seen in the Android series phones from Micromax till now.
Micromax will bring an entire range of Windows Phones from Micromax which runs on Windows Phone 8.1 OS. This Windows phone range will be named under Micromax "Canvas" series only, which is hugely popular sub-brand of phones by Micromax with a lot of popular android phones in Indian market.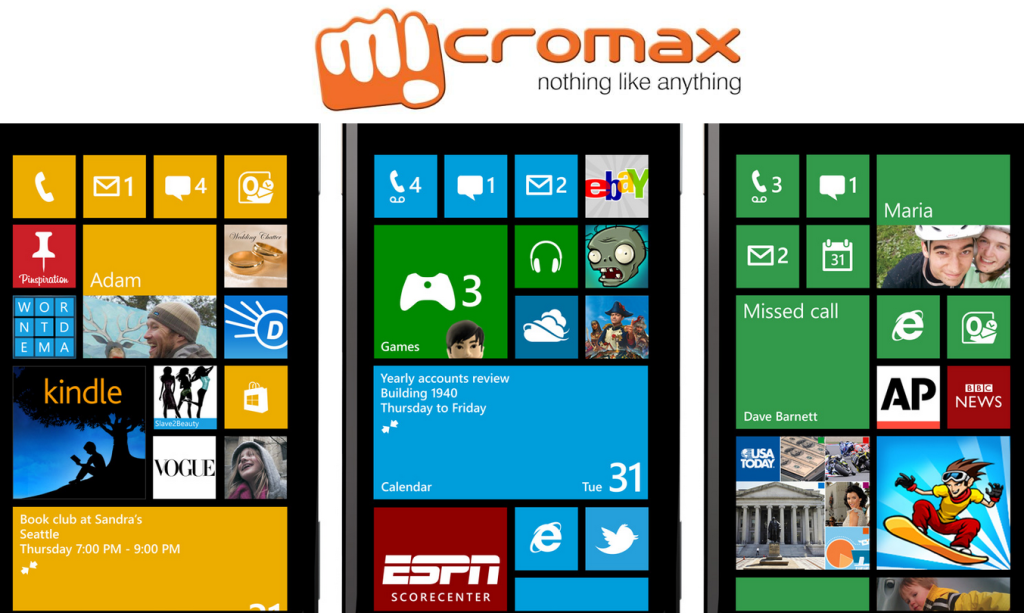 Models And Pricing
We are reporting live from the launch event. There are two phones on showcase today, a 4 inch and a 5 inch Windows Phone Micromax Canvas Win W092 and W121 which will go on sale in July 2014. There will be a complete lineup of Windows phones from Micromax planned in future which will keep rolling gradually.
Micromax Canvas Win W092 is priced at Rs. 6500 and Micromax Canvas Win 121 is priced at Rs. 9500. These phones will go on sale in July 2014.
Specifications And Features
Micromax Canvas Win W092 is a 4 inch display phone, powered by a 1.2 GHz quad core snapdragon 200 processor, has 1GB RAM. It comes with Dual SIM feature and a large 1500 mAh battery. It has 8 GB internal memory, a 5 MP rear camera and a 0.3 MP VGA front facing camera at such aggressive price point. It also comes in with an expansion slot for memory expansion of up to 32 GB. It runs Windows Phone 8.1 OS which is the latest from Microsoft.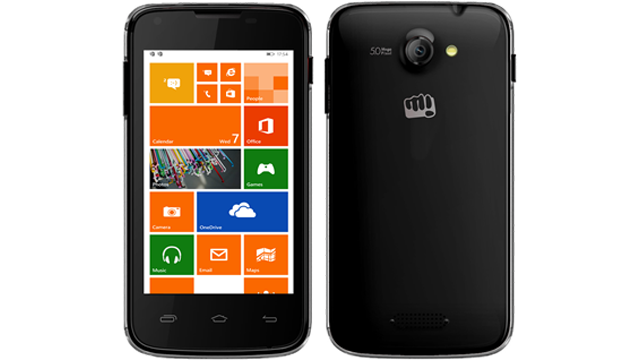 Micromax Canvas Win W121 on the other hands is a large screen 5 inch phone which comes with same 1.2 GHz chipset by qualcomm  snapdragon 200, has 1 GB RAM, 8 GB internal memory, memory expansion microSD card slot, an 8 Megapixel real camera and a 2 MP front facing camera. It also comes with dual SIM feature. It runs Windows Phone 8.1 OS which is the latest from Microsoft.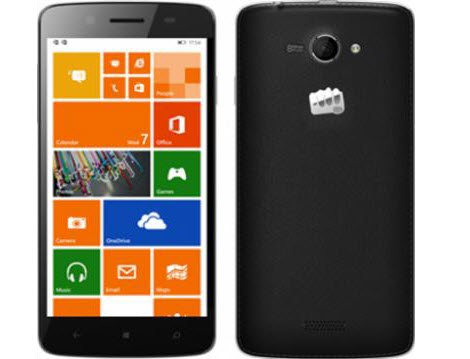 Micromax Canvas Win W092 & W121 Hands On Video Review
Expert Analysis
We have been watching this space for a few years and with the acquisition of Nokia mobile phone business, some strategic changes were expected. However, launching Windows phones with other OEM partners (other than Nokia) was already on the road-map of Microsoft, so Micromax Windows phone is not a major surprise for Nokia. But with the kind of brand image and market share Micromax has acquired in India in past few years, it will pose a big challenge to Nokia in terms of numbers.
There may seem to be some conflict of interest as Microsoft owned Nokia phone business also vouches big on the Lumia series Windows Phones, whereas the Micromax Windows phones will challenge the same segment, but there is a catch here. While the Nokia phones are still seen and appreciated as highly rugged and solid build durable and premium phones, Micromax has an image of a common-man's affordable phone. There is a lot of difference in the brand perception when it comes to Micromax and Nokia. Micromax is a more high value brand with products which fits low budget, while the Nokia Lumia phones are still seen as strong and premium phones with not-the-best-specs-in-price-segment.
We believe, for Microsoft, it will mean more market share for Windows phones in the smartphone segment by the virtue of high-value-for-money strategy of Micromax, while the Nokia Lumia phones will continue to sell for the superior build and durability which they are famous for. This will also open up a new segment for Micromax and will also offer more choices for the consumers which is a win-win situation for all.
Pictures Gallery
Also please subscribe to our official youtube video channel for hands on video reviews of the Micromax Windows phones in India.
More related stories below: