Microsoft has announced Cortana for Android and iOS alongside Phone Companion app for Windows 10. With Cortana virtual personal assistant, users will be able to perform various tasks through voice commands. Phone Companion app will let users set up and sync data from OneDrive, Musicapp, OneNote and more on their devices.
Cortana for Android will be available at the end of June through Google Play and Cortana for iOS will be available later this year through App store. The Phone Companion app will be available in new Windows 10 Insider Preview build in  the coming weeks.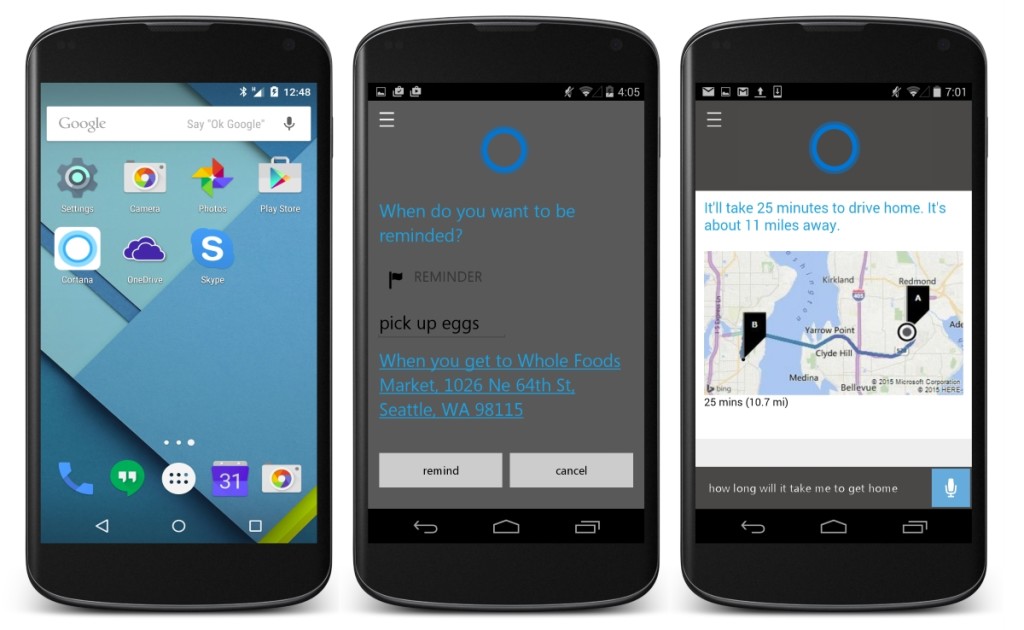 Cortana For Android and iOS
The Cortana for Android and iOS is a virtual assistant which will allow users to set reminders, write e-mail, make searches and much more.
"You can have Cortana remind you to pick up milk the next time you're at the grocery store, and then your phone will wake up and buzz with the reminder. You'll be able to track a flight using Cortana on both your phone and your PC, and get the updates on the device that you're on so you don't miss anything.  Everything in Cortana's Notebook will show up across all your devices and any changes you make on one device will be reflected when you use Cortana on any of your other devices. The Cortana companion app will help you complete tasks you begin on your PC wherever you are, on your phone," notes the company in a blog post.
Cortana For Android and iOS Video
Phone Companion App
The Phone Companion app will let users connect their Windows PC to their smartphone (Windows phone, Android phones and iPhones). Windows Phone users will be able to use the Phone Comapanion app without much ado. Android and iOS users however will have to follow simple steps for the same.
After setting up OneDrive, users can take all photos from phone to Photos app on Windows 10 PC automatically. With Music app, users will be able to store and access their music playlist on OneDrive on Windows 10 PC and play it on Android phone, iOS phone or Windows phone for free from anywhere.
Notes once taken on OneNote app on Windows PC will also show up on user's phone while allowing users to make changes in the notes through their synced phone. The changes made will also be saved on Windows PC. It will also allow users to work on Office documents from any device.
Stay tuned with us for more updates!
Also Read: World's First Microsoft Priority Reseller Store Launches In India
More related stories below: