Since we did a hands on video review of the Motorola #MotoE on our video channel we have been getting a lot of questions in comments under our video here. We have collected the top 15 questions from the comments across our Motorola Moto E videos and tried to answer them all here so that if you have any doubt or query related to Moto E and its performance, you can make up your mind before making a purchase decision for or against the same. We have also done a video covering all these questions, so if you prefer watching a video instead, we have embedded the same for your convenience below.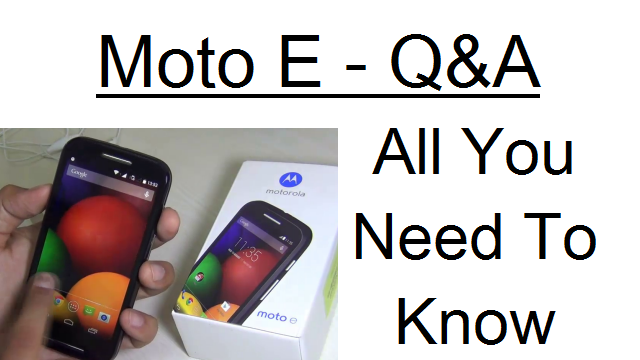 Motorola Moto E FAQs Video
Motorola Moto E FAQs Answered
Q: Can I use OTG cable on Moto E?
Ans: Moto E does not have native support for OTG cable. We tried it with an OTG pen drive and also with an OTG cable connected to standard pen drive. It did not work in either of the scenarios.
Q: How good is the headsets quality of Moto E?
Ans: The headsets bundles in the Indian retail unit (not all countries have this bundled with moto e), are average in quality, the treble levels are good but bass is missing.
Q: Can I move Apps To SD card on Moto E?
Ans: Yes, but it may not move all the data, some of the app data may still remain on the internal memory, which may be a trouble if you plan on installing a lot of apps. If you like installing a lot of apps, I would suggest you select a phone with larger internal memory.
Q: How good is the camera quality? Video and Still Samples Of Moto E?
Ans: Camera on Moto E is a 5 MP fixed focus camera which produces average results. The picture as well as videos are not sharp, do check our video for the samples.
Q: Is there notifications LED feature on Moto E?
Ans: Yes, there is a notification LED which is rare (rather missing) at this price segment.
Q: How loud is the speaker loudness of Moto E?
Ans: Its fairly loud, and being a frontal speaker, it works even better.
Q: Does Moto E have hotspot feature or not?
Ans: Yes, just like any other Android phone, it also has the same under same menu options. See our video for details.
Q: Does Moto E support OK Google feature?
Ans: You can not activate it from the lock screen like in Moto X, also you can not launch it on the home screen either, but when you open Google search / Google Now, you can say OK Google to activate the voice search.
Q: Is there front camera support on Moto E?
Ans: No.
Q: Can I make video call from rear camera of Moto E?
Ans: Yes, you may, but you will not be able to see the other person on screen as you can either look at the rear camera (so that other person can see you) or you can look at the screen (so that you can see the other person), but can't do both at same time (unless you design a mirror trick box for it, too much pain no?).
Q: What Is the video recording resolution on Moto E?
Ans: It records in 854×480 resolution which is also known as 480p. This is good enough for a video sharing and uploads, but not good for watching on an HD display. So I would say, video recording it not delightful on Moto e.
Q: What is the supported video playback resolution on Moto E?
Ans: It can play HD videos on the Moto E but the playback is only qHD which is 540×960 pixels as the display is only that much in pixel size.
Q: Is full screen gaming possible or not on Moto E?
Ans: Yes, it automatically makes the buttons and notifications disappear after a few seconds when you launch a game or play a video, which is very good. Just one swipe down from top edge and it brings back the buttons and notifications for you.
Q: Is the silver thing at bottom of Moto E a button?
Ans: No, its a speaker grille and also houses the mic hole somewhere inside it.
Q: Can I play heavy games like Asphalt 8 and Dead Tigger 2 on Moto E? How well it scores on benchmark tools like antutu, quadrant standard and nenamark 2?
Ans: Yes, we tested Asphalt 8, Dead trigger 2, have a look at our video above. It may not be the best gaming phone, but playing such games it no less than a bonus at this price point. On benchmarks, we got 12,000+ on Antutu, 5000+ on Quadrant Standard and around 48 FPS on nenamark 2, which at this price point is almost unbeatable at this point in time.

We have also done some research on What Is Wrong With Moto E, do check it out too. Also check out our complete video coverage on Moto E in one single playlist.
If you like our article, please take out a few seconds and share it with your friends on Facebook and Twitter, sharing is caring 🙂 Adios.
More related stories below: