These days, Nokia is doing well in India with its lineup of handsets, gradually carving a niche in the market. While, the Finnish tech firm seems to be struggling hard to revive its smartphone business, it is clear that it is winning on one side by attracting more and more consumers for the Asha handsets selling at budget price points.
Moreover, the company seems to be adding new and innovative features to the Asha handsets in order to make them penetrate into the market deeper. Coming to the mobile phone market, Nokia has lost its reign to South Korean tech titan Samsung, which launched Rex lineup of handsets with Smart Dual SIM feature. Priced between Rs 3,770 to Rs 5,870, the Rex handsets were launched in order to take over Nokia Asha devices.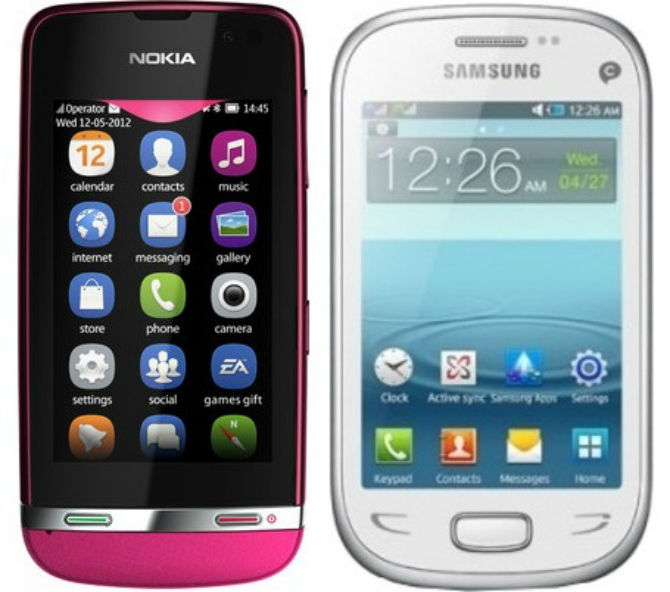 Analyzing the specifications and price of Asha 311, it can be said that the Rex 90 could be a stiff competitor to the Nokia offering. For those consumers who like to buy dual SIM handsets with basic specs and features, the Asha 311 and Rex 90 might be great offerings, hence, Intellect Digest has decided to do a spec comparison on both.
Display
When it comes to display, Asha 311 packs a 3-inch TFT capacitive touchscreen display with a resolution of 240×400 pixels and a pixel density of 155 ppi approximately. On the other hand, Rex 90 features a 3.5-inch capacitive touchscreen display with a resolution of 320×480 pixels and 165 ppi pixel density approximately.
Hardware
While Asha 311 is powered by a best in class 1GHz processor, the Rex 90 is equipped with a lean 312MHz processor only.
Camera
Both the handsets come with a 3.15-megapixel rear camera and lack a front camera for video calling.
Storage
Asha 311 has 140MB internal storage and a micro SD card slot supporting up to 32GB additional storage. At the same time, Rex 90 has 10MB internal storage and a micro SD card supporting 32GB expandable memory.
Connectivity
Both Asha 311 and Rex 90 come packed with connectivity features including Bluetooth, Wi-Fi and micro USB 2.0. However, Asha 311 scores more with the presence of 3G, which is lacking in Rex 90. Nokia has incorporated the Xpress Browser with 90% datsa compression in Asha 311, whereas, Samsung has loaded the Rex 90 with Opera Mini beowser with 90% compression.
Battery
Asha 311 is loaded with a 1,110 mAh battery offering up to 6 hours standby and 768 hours talk time. On the other hand, Rex 90 is powered by a 1,000 mAh battery of unknown backup.
Price
Asha 311 is priced at Rs 5,819 approximately and Rex 90 is available for purchase at Rs 5,870.
Other Features
Asha 311 comes with 40 free EA games worth Rs 2,700, while the Rex 90 does not include any freebies. Also, the Nokia offering is preloaded with WhatsApp, Nokia Maps and push notifications for Facebook and Twitter. Further, the Asha 311 includes 2GB free micro SD card free, social client with 70% data compression and data counter. Also, Asha 311 supports multiple languages including Telugu, Kannada, Malayalam, Tamil, Hindi and Bengali.
Conclusion
Both Asha 311 and Rex 90 are entry-level handsets meant for users to be socially connected and bearing reasonable price tags. Moreover, both the handsets come with basic specifications and hence, the buying decision depends on the consumers. At the end, will be you buy Rex 90 or Asha 311?
More related stories below: