Panasonic has launched its Seekit device in India. It helps users to track their valuable. The security device uses Bluetooth v5.0 technology and sports an IP65 build. It comes with a starting price of Rs 1,299 and comes in two variants – Seekit Edge and Seekit Loop. Read more to find about Panasonic Seekit Bluetooth Trackers Price in India, Specifications, and Features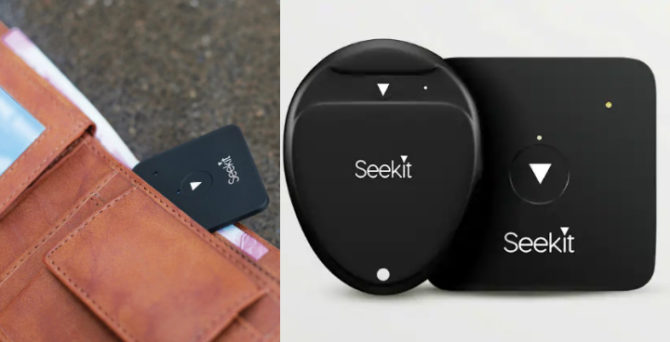 Price and Availability
| | |
| --- | --- |
| Panasonic Seekit Edge | Rs 1,599 |
| Panasonic Seekit Loop | Rs 1,299 |
The Panasonic Seekit Edge comes with a price tag of Rs 1,599. Whereas the Seekit Loop is priced at Rs 1,299. Both variants will be available via major online marketplaces from December 1.
Also read: Asus ROG Gaming Smartphone Coming To India On November 29
Specifications and Features
The Bluetooth-enabled tracking devices are designed to keep an eye on valuables. However, the Panasonic Seekit Edge is mainly designed for products such as wallets, laptops, and smartphones. On the other hand, the Seekit Loop is majorly designed for keychains. You can make your valuables secure and trackable in two simple steps (tag and connect) via the Seekit app (initially available for Android devices).
Both models come with identical hardware, Bluetooth v5.0 connectivity, and an IP65-certified build. Since the Bluetooth connectivity is limited to 100 feet, the Seekit app comes with a last seen location feature. A built-in CR2016 button cell offers up to 18 months of battery life.
Both Seekit Edge and Seekit Loop feature a speaker that produces up to 80db of sound to notify when you are n0t in the range of your connected valuables. Notification alerts can be customized with various levels of alert such as High, Low, DND, Pickpocket, etc. You can also customize alert tones or record your own voice to differentiate between devices.
Additionally, the Seekit app lets you share your rights with other people to help you find your valuables quickly. You can also use the Seekit device to capture a selfie through the connected smartphone. An SOS Alert feature lets you send alerts to any particular contact by thrice pressing the physical button on the devices.
A Bi-direction Tracking feature lets users find their smartphones along with tagged belongings. All you need is to just double press the button on your tracker device. A Proximity Guidance feature guides users to find the valuables without using the phone. It essentially lights up and buzzes the device to remind users to find it.
Also read: How To Track The Time You Spend On Facebook
Conclusion
Panasonic aims to expand the use cases of Seekit and build a community of users that can power a crowd GPS platform. Initial targets include automakers, insurance companies, and luggage manufacturers. The company claims that the application is extremely encrypted and fully secured.
"The prime aim is to move in the direction of providing a connected environment to people. The vision is little too large as maybe it appears that we're are starting with the small device, but the objective is to spread the awareness of making people ready for the new lifestyle," said Manish Sharma, CEO, Panasonic India, and South Asia.
"We're looking at a million devices in the first year, focusing specifically on urban markets. Of course, it will be available online so anybody in the country will have access to buy. But our target customer is fundamentally into some specific cities – somewhere in urban markets. We're paying equal focus on both online retail and also on enterprise sale," he added.
What do you think of the new security devices? Will you consider picking up the Bluetooth trackers? Share your views with us in the comments section below.
More related stories below: