If the rumours were true about the entry level smartphone of Motorola. Then we are going to see a blast in entry level segment of the smartphone market. The thing Motorola has done in budget and Mid-range segment with Moto G and Moto X respectively, same thing it is expecting with the new leaked device from Motorola. The new device will be priced under 10,000 if we believe on rumours. The Moto G and Moto X was hit for Motorola in Indian market and overseas too. The Motorola launched the  Moto G and Moto X in Indian market with Flipkart. The Moto G was the biggest hit for Motorola that it became company's bestselling device.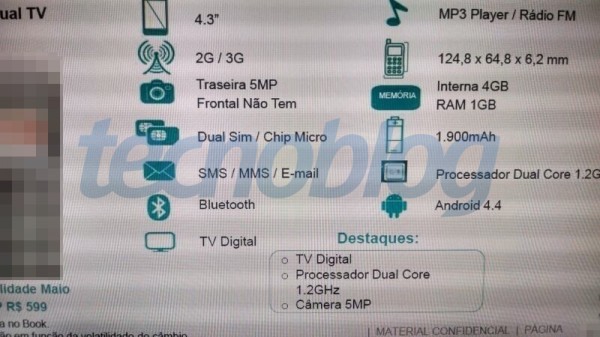 The leaks come from a Brazilian website Technoblog. They posted a picture of a smartphone box with some specifications. And according to them Motorola will be launching the new device in May.  The device is rumoured to be called as Motorola Moto E. Like Moto G, it will come in single SIM and dual SIM variants. Along with this one of the variant will also come with digital TV support.
So let's have a look on the specifications of the device. The device is just 6.2mm thick only. So the on the design front, the device already beats other devices in entry level segment. As we have not seen any device with such thickness. Talking about the display of the smartphone, it's got a 4.3-inch display of unknown resolution and pixel density.
There is a 1.2GHz dual core processor couple with 1GB RAM. There is 4GB of internal storage. At the back of the smartphone there is a 5-megapixel camera. The smartphone is powered by 1900mAh battery. And the best part is it comes with Android 4.4 KitKat pre-installed. So you will get experience of latest operating system in entry level segment too.
According to specifications, it is clear that it is going to be an entry level smartphone. So we can expect that after the launch in May, Soon Motorola will also launch this device in India too.
Leaked Specifications of Motorola's new Android device
6.2mm thick

4.3-inch display

1.2GHz dual core processor

1GB RAM

Android 4.4 KitKat operating system

4GB internal storage

5-megapixel rear camera

1900mAh battery
For More Stay tuned with   Intellect Digest India   and like us on   Facebook   or follow us on   Twitter  .
More related stories below: