Samsung India has launched its full series of new touch screen Windows 8 based ultrabooks (laptops) of series 5 and series 9, tablet-uktrabook hybrids known as ATIV Smart PC and ATIV Smart PC Pro in India on 27th November 2012 in New Delhi. The most innovative products in this series is the ATIV smart PCs. The price of the ATIV smart PC is Rs. 53,990 while the ATIV Smart PC Pro has been priced at Rs. 74,590. The pricing may seem a bit premium, but these devices combine the power of a full fledged ultrabook in a tablet form factor with a full size detachable keyboard base. These tablets also offer the popular S-Pen stylus from Samsung which is used in the Samsung Note series of devices. S-Pen makes it very handy to use the handwriting and picture editing based tasks using more natural handwriting and drawing gestures rather than using a mouse or track pad.
Samsung ATIV Smart PC and PC Pro Features and Specifications
The ATIV series has a high definition (HD) 11.6 inch capacitive touch screen LCD display with high contrast ratios and brightness levels of up to 400 nits. This touch screen which can detect up to 10 touch inputs makes it very convenient to use Windows 8 interface which comes pre-loaded on it and also helps use many advanced touch applications and games.
It supports numerous touch gestures, thanks to the 10-point touch sensitive display. S-Pen also helps to take the functionality to the next level. The specially developed S-Note application also comes loaded on the ATIV series tablets. Talking of the form factor, the ATIV and ATIV pro are 9.9 mm and 11.9 mm in thickness respectively. The ATIV Smart PC is powered by an Intel Atom Z2760 processor while the Pro model is powered by powerful third gen Core i5 processor which gives it an equivalent performance of an Ultrabook.
Some other highlights include a large battery life of up to 13.5 hours, USB 2.0 and 3.0 ports, mHDMI, miniSD and 2 more USB ports on the Keyboard.
Samsung Series 5 Touchscreen Ultrabooks Features and Specifications
The series 5 touch screen ultrabooks are Windows 8 based ultrabooks with full 13.3 inch high definition touchscreen LCD display which detects 10 touch points just like the ATIV series. This series is powered by a 3rd generation core i5 and i7 processor family, up to 12 GB of RAM, up to 500GB of storage, fast boot in 20 seconds, wake up time of as low as 2 seconds. The weight is just 1.64 Kg and thickness is under 20 mm. The battery life is claimed to be up to 6.7 hours on average usage. The advanced battery is designed for up to 1500 usage cycles which is typically a usage of about 3 years.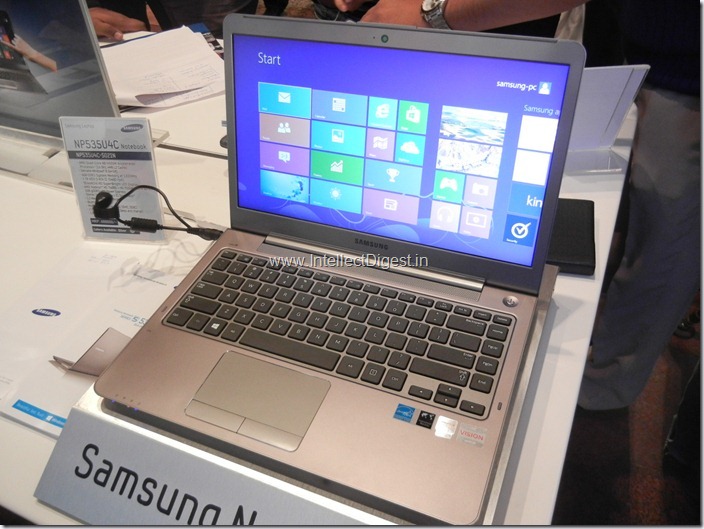 The build quality is also impressive with Aluminum and fiberglass materials which makes it strong besides keeping it light in weight. The Samsung Series 5 Touch Ultrabooks have been prices staring at Rs. 64,990.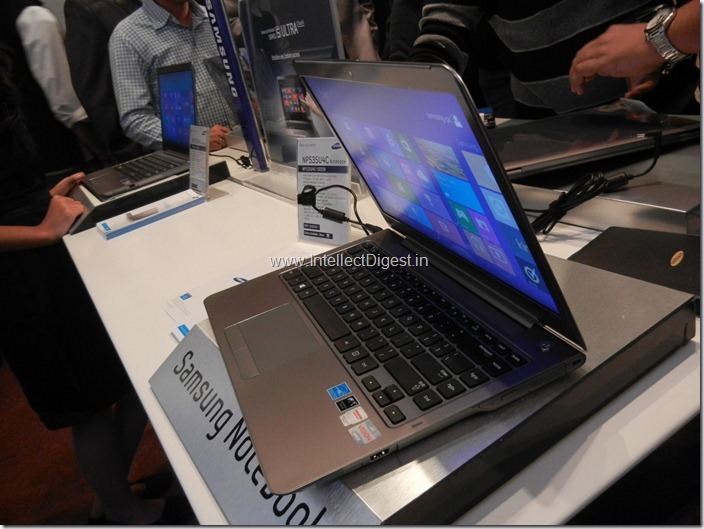 Samsung AITV Smart PC, Smart PC Pro, Series 5 Ultra Touch and Series 9, 15 inch Notebook Video review:
Check out our YouTube channel for all videos.
More related stories below: