Samsung has been getting a great response for the Galaxy S4 and the company wants to capitalise as much as it can on the success of the device. At the recently held Google I/O event, we witnessed the arrival of a stock Android version of the Galaxy S4 and today the pictures of a rugged version of the device have leaked on to the interweb. From the pictures it can be easily made out that the device is a Galaxy S4 and the variant is the Galaxy S4 Active.
The Active title signifies its activity-friendliness and the ability to be a go anywhere phone. It will rival the Sony Xperia Z in this department.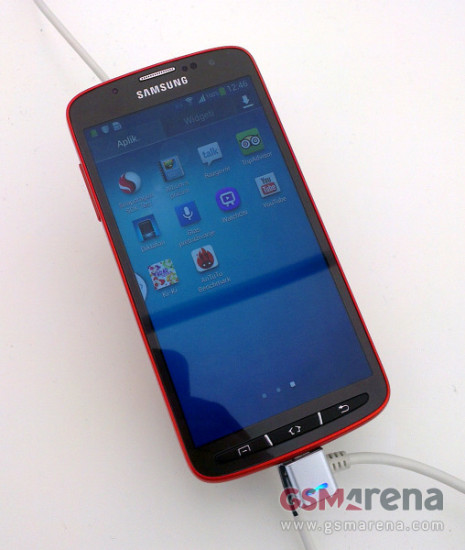 A good man has just sent the pictures of a supposedly rugged Galaxy S4 or the alaxy  S4 Active to the folks back at GSMarena. The picture of the smartphone from the front suggests that it is a S4 and when you look at the back, it is not the hyperglazed plastic of the S4. Instead it is a metallic red and black unit which has bolts on the rear cover, hinting all the more towards the resistance from water and dust.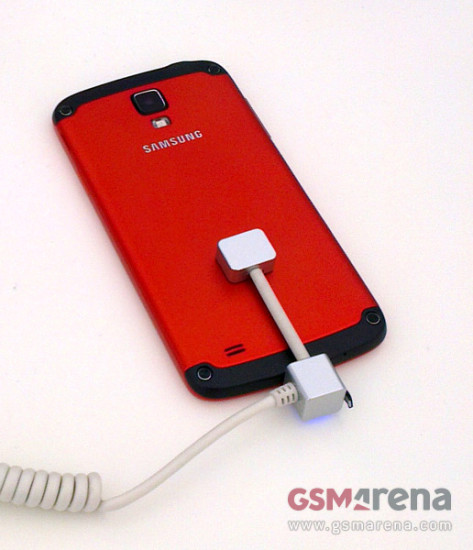 The capacitive buttons give way to physical keys up front. It is expected to sport the 1.9GHz quad core Snapdragon 600 chipset as its heart which further suggests that the countries getting the Snapdragon 600 variant of the device might be the only ones getting it. The front like the normal variant will be adorned by a 5 inch screen of Full HD resolution but might feature some extra protection.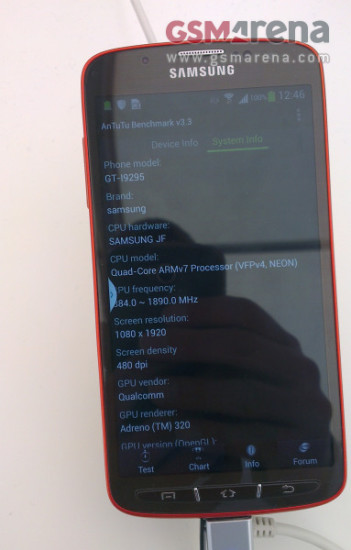 The device looks to be a metallic one and might give respite to the people who did not like the plastic body of the  S4. So the Galaxy S4 Active will bring together an aluminim body and protection against dust and water. What else do you need?
And now you'd be wondering if an Indian launch would take place. We highly doubt it but seeing the fact that India is Samsung's one of the most important markets, it might see the light of the day in India as well.
More related stories below: