Sony India has launched their compact portable charger CP-V3 for mobile phones or any other devices which charge over USB like iPods, tablets etc. These chargers have been launched in a set of vibrant colours and feature a Sony manufactured Lithium Polymer battery of 2800 mAh capacity. Another special feature of this charger is that the output current goes up to 1.5 Amp or 1500 mAh which giver really fast charging time when you charge your mobile phones with this portable charger.
At just 84 gram weight, its one of the lightest portable chargers around. With the Li-Po technology, it also lasts longer than conventional durability. As per the claims of the manufacturer, it will retain 90% capacity even after being used over 1000 times. To charge this charger, you can use a standard wall charger which you use to charge your phone or you can also plug it to a normal USB port on computer, but that will take longer time to charge the battery/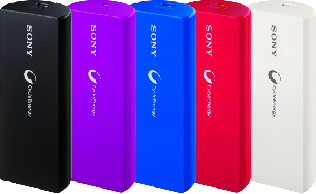 Price and Availability
These chargers have been priced at Rs. 1590 MRP but you can but them for a better bargain online. Buy Sony CP-V3 from Flipkart at Rs. 1299 only and get an instant discount of Rs. 291 straight away.
Sony CP-V3 Specifications
Model

CP-V3

Input

DC 5V, 0.5A ~ 1.0A

Output

DC 5V

1.5A (Max)

Size (W x H x D mm)

38.8 x 99.0 x 19.0

Weight

Approx. 84g

Supply Time*

Approx. 60 min
(Max 1.5A)

Battery Capacity

2,800 mAh

Charging Time
AC adaptor

Approx. 3.5 hours

USB port

Approx. 6 hours

Operating Temperature

0°C ~ 35°C
More related stories below: