The touch screens are the demand of the times but it can be a real pain for those who use their computers for more intense work like programming, writing, blogging or hardcore gaming. The tablets have the right ingredients to make the laptop extinct in the future because of their high resolution, instant boot up and longer battery life and they are a saviour when you are on the go. But if in spite of all this you miss a physical keyboard and the tactile sensation, you have come to the right place.
We are going to tell you a simple way to use your Tab as PC. The solution is really easy and the best part is that it will not pinch your pocket. You'd need:
An OTG cable (available online for $2 – $3 here)
An external wireless keyboard and mouse, which most of you would already have, otherwise they will cost you around $30 (available online here)
Few minutes
Video Demonstration
Setup Guide
Now all you have to do is connect the keyboard and mouse with the single wireless dongle, attach the dongle to one end of the OTG cable and then finally, connect the OTG cable to your tablet. Voila!!
The fire is invented!! Use this mouse and keyboard to swipe through the screen, open the productivity apps, browse the internet or do anything and everything you do on your regular PC. Also, if connecting seems complicated to you, choose a keyboard and mouse which work over the Bluetooth. Most of the Logitech Bluetooth keyboards work great.
They are portable and some come with a stand which will convert your tablet into a modular laptop. Install apps like CloudOn , invest in some above mentioned accessories and get ready to be impressed. Soon your tablet will give your laptop a run for its money.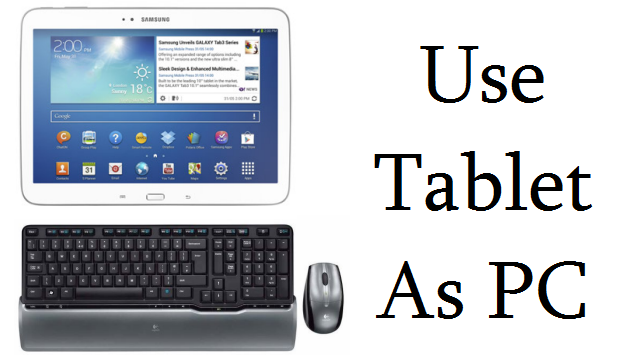 NOTE: Not all tablets support OTG connectivity, so check if your tab supports the same. Most tablets running Android 4.2 or higher has this support in-built. But we still recommend that you check before you purchase accessories to make it work.
Stay connected with Intellect Digest on Facebook to know more.
More related stories below: