Even the fastest smartphones start to drift over time. The reason behind such slumps in speed varies from cached data to bloatware or unused apps. If your smartphone has started to slow down, don't get frustrated. Let us help you speed up the mini-computer in some quick steps. Read more to find about How To Speed Up Android Smartphones In Less Than 5 Minutes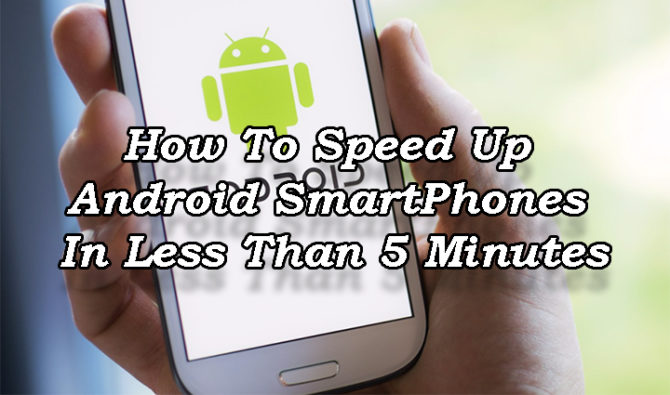 Clear your Cached Data
The collection of small pieces of data can slow down your device. Cached data might be the reason your phone is low in storage. All you need to do is clear the trash. Just head over to Settings > Storage > Cached data and select the 'Clear cached data' option.
Remove/Disable Unused Apps/Bloatware
This one is pretty simple. Most Android smartphones ship with a lot of pre-installed apps. Plus, you might have installed certain apps and never used them again. Such apps and bloatware end up using a lot of space on your device. Just head over to Settings > Apps.
Now, just tap on the apps you wish to uninstall and select OK to confirm. You can remove as many apps as you like.
Remove Widgets
Widgets are one of the cool features of Android OS as these offer a shortcut to interact with various apps. However, too many widgets can spoil the party. You can speed up your device by getting rid of some of these. Just navigate to the widget you want to remove and long press. Now, drag the widget to 'Remove' option on top of the display and release.
Also read: How To Remove A Virus From Android Smartphones and Tablets
Disable Animations
All the cool transitions and animations might also slow down a device running low on power. If such animations start looking jittering, give a break to your processor by turning these off. Just, navigate to Settings > About phone and tap on the 'Build number' 7 times.
Now, you shall receive a message informing that you now have access to Developer options. Next, return to Settings and tap on 'Developer options'. In the Windows animation scale, select 'Animation off' option. Do the same for Transition animation scale and Animator duration scale.
Use Chrome Browser
Some of the frequently used apps like Facebook and Twitter end up using a lot of data. You can just delete these apps and use Google Chrome to stay updated on social media action. Additionally, you can optimize the Chrome browser through its Data Saver mode.
Also read: How To Save Data While Using Facebook Messenger On Android Devices
Conclusion
There are multiple ways to speed up your device. However, the above-mentioned tips are some of the fastest solutions. Do you have any other tricks that can be used to speed up Android devices? Please share with us in the comments section below.
More related stories below: