Spice unveiled two new products for Indian market namely Spice Virtuoso smartphone and Stellar pad android tablet. The two products are priced at Rs.10, 499 and Rs.12, 999 respectively. The smartphone screen carries a screen of 4.5 inches along with a qHD resolution. The phone is also studded with two cameras at front and rear face with a resolution of 1.3. Megapixels and 8 Megapixels respectively. The other features includes a 1700-mAh battery, a memory card slot that gives storage access unto 32 GB and a full leather covers that covers the phone from tip to toe. The phone functions on an Android 4.0 Ice Cream Sandwich.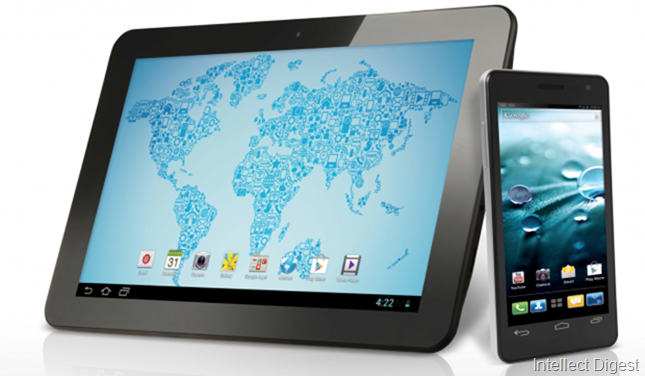 Other special features of this smartphones includes Bluetooth 4.0, Proximity sensor, Ambient light sensor, G-sensor, Wi-Fi connectivity that supports Wi-Fi tethering and the phone also does support various other apps like GPS, AGPS, GMS, HSPA and much more. The phone claims to be the slimmest smartphone in India with a thickness of just 9.44mm.
On the contrary, the Stellar pad has a 10.1- inches display along with a resolution of 1280 x 800 pixels. The other defining features of this amazing pad includes a dual-core processor of 1.5Ghz capacity in combination with a quad-core GPU, a battery of 7,600 mAh and a tough leather cover. It is powered by Android 4.1 Jelly Bean that carries several latest features like multi-window view, Group cast, smart rotation, and Google now.
Spice has always been known for bringing in products for the common mass. In India, Spice has working as a subsidiary of Idea cellular limited that is an Aditya Birla Group company. It was launched in India a decade ago and currently enjoys a customer base of around forty lakh in two states Punjab and Karnataka. Idea Cellular bought 80% stake in this company in 2010 paying a hefty amount of Rs.2700 crores. The company was previously owned by ModiWellvest and Telekom Malaysia. The Idea cellular now completely looks into it and has been looking into the recent challenges that this company is facing in Indian market that led to fall in its market share recently.
More related stories below: