Apple iPhones are known for their superior build and quality as well as their premium looks. iPhones are the devices most craved for, in the smartphone market. Perhaps you might also be owner of iPhone, but are you really getting most out of your Apple device? Have you ever wondered what can they actually offer to the users apart from their stunning looks? So, here we are to help you know some more features which your Apple iPhones have in store for you. Read on to find 8 essential tips & tricks for iPhone users.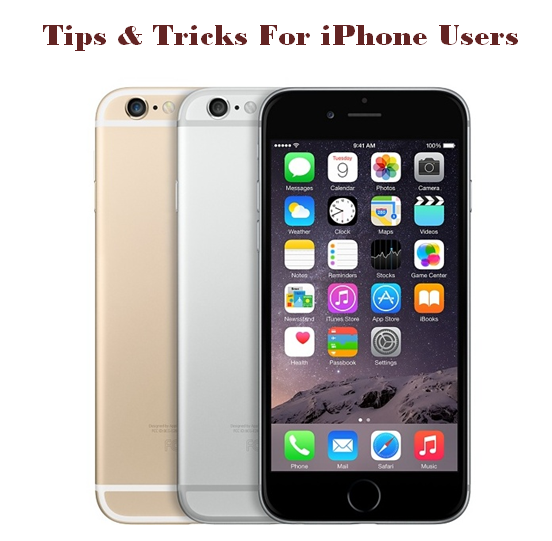 8 Tips & Tricks For iPhone Users
Check out the tips and tricks listed below to get the most of out of your smartphone.
1. Turn On Assistive Touch
Are you tired of tapping the Home button of your device? Turning on Assistive touch on your iPhone will alleviate you from the trouble of tapping the Home button again and again. You can tap the assistive touch button instead, to get your tasks done. To turn on the Assistive Touch on your iPhone, Go to Settings > General > Assistive Touch > Turn it ON. The Assistive Touch icon by default is a small white circle inscribed in a square shape, however you can customize the gesture according to your own choice.
2. Take Screenshot
There are many moments when we wish to take screenshots on our devices. There are two ways which you can use to take screenshots on your iPhone. One way is to press Home button and On/Off button simultaneously to capture whatever is displayed on your screen at that time. Other option to take screenshot is with the help of Assistive Touch. If you have Assistive Touch activated on your device, then tap on the Assistive Touch Gesture > Device > More > Screenshot.
3. Turn On Alphanumeric Pass Code
Though iPhones are coming with Fingerprint pass codes besides numeric pass codes, you can also put an alphanumeric pass code for your device. To enable alphanumeric pass code, Go to Settings > Touch ID & Passcode > Turn Simple Passcode Off. This will provide you with a bar to enter your new Alphanumeric passcode.
4. Switch Between Apps
Once you have launched an app on your iPhone, they keep running in the background. You can access those apps on your device by double tapping the Home button of your device. If you have Assistive Touch enabled, you can also double click on the Home option to quickly access the apps running in the background.
5. Use Headphones To Capture Images
Our images often get blurred if our hands shake while clicking a picture. It is also cumbersome to hold the phone in our hands for long while deciding our pose. However you can capture stunning shots from your iPhone or by just pressing volume up or down button of your headphones.
6. Undo Typing
If you have mistakenly typed something or pasted something on your device, you can undo the typing or pasting by just shaking your device once. If you want the original  message back, shake your iPhone once more and your will be prompted with Cancel or Redo Typing options. Choose Redo if you want the original message back.
7. Type Faster With Shortcuts
Adding shortcuts in your iPhone helps you type faster. You can add shortcuts like 'omw' for 'on my way' and 'brb' for 'be right back' and so on. You can also add shortcuts for emoticons. These shortcuts will expand automatically into the word or phrase that you will save. To enable shortcuts, Go to Settings > General > Keyboards > Shortcuts.
8. Set Timer To Stop Music
There are many people who love listening to music when they retire to bed. What happens next? They fall asleep while the music keeps playing. Doing this, not only reduces the battery of smartphones but also affects our ears. iPhone users can stop the music playing on their device by setting a timer. To enable the timer to stop music, Go to Clock app > Timer > When Timer Ends > Scroll down and choose Stop Playing. Now set the timer when you want to stop the music.
Did you try the tips & tricks listed above on your iPhone? We would like to hear from you. Share your experience with us in the comments below!
Also Read: Tips To Boost Battery Life Of Your iPhone & Android Phone
More related stories below: