Laptop or PC are great sources of video and playback, especially while travelling. However, sometimes they are too far to reach and control. This can be quiet uncomfortable if you are not carrying wireless mouse or keyboards. However, we have a simple solution for such solutions. You can easily use your smartphone to perform these tasks. All you need is a good help. Read more to find about How To Use Your Smartphone As WiFi Mouse, Keyboard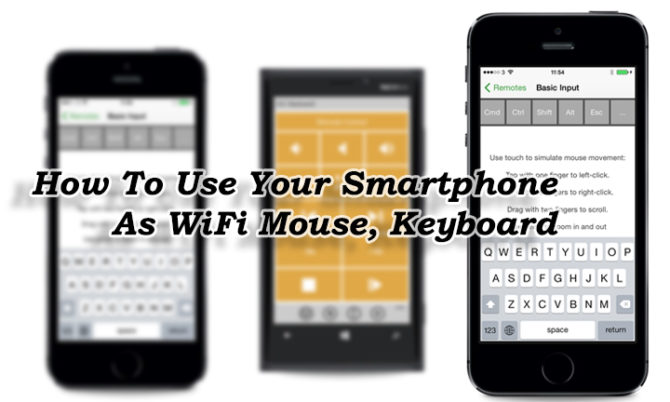 Nowadays, you can easily connect your smartphone to your laptop/PC and use as a Wi-Fi mouse, keyboard, or remote control. This allows you to take notes, quick search,
adjust volume, input password, control music/video playback, etc. This also helps if your touchpad stops functioning properly. All you need is to install a mobile app and a desktop server app. Here are some of the best smartphone mouse/keyboard apps:
Unified Remote (by Unified Intents)
It comes with multiple remotes (include a keyboard and mouse), themes, and third-party keyboard support. The Unified Remote works with both Windows PC and Apple Mac. You can choose between a free and paid version. A paid version offers more than 40 premium remotes, screen mirroring and customization options.
PC Remote (by Monect)
The easy-to-use app can turn your Android or Windows phone into a keyboard, touchpad, and game controller. However, it only works on Windows PCs.
Remote Mouse
The simple app offers a touchpad to control and an on-screen keyboard. It works with PCs, Macs, and even on Linux. You can also adjust sensitivity and speed settings of your virtual mouse.
Also read: How To Take 360 Degree Pics With Your Smartphone Camera
How To Use Your Smartphone As WiFi Mouse, Keyboard
Install the PC server software on your laptop.
The desktop app will appear in the menu bar on your PC.
Next, install the mobile app on your smartphone/tablets.
Connect both devices to the same WiFi network.
Now, you can tweak settings in the mobile app and toggle between activities.
That's it. Just use slide your fingers to navigate, left/right click using gestures, pinch and zoom.
Also read: 10 Smartphone Apps To Boost Your Productivity
Conclusion
Now you can use your smartphone to play music/videos or give a small presentation from your PC. While many apps can turn your smartphone into a mouse and keyboard, the above-mentioned applications are a great option. However, the mouse function works better with most devices than the keyboard function. So, if you plan to do extensive typing, you might need a wireless keyboard or move closer. We hope you found the 'How To Use Your Smartphone As WiFi Mouse, Keyboard' helpful. Please share your own tricks/tips in the comments section below.
More related stories below: