WhatsApp is one of the most popular apps in the world with over 1 billion daily active users, and over 1.3 billion monthly active users. Now, the Facebook-owned messaging service has added a new live location sharing feature. The new feature is designed for short-term use. It allows you to share your location with a friend or in a group chat. Read more to find about WhatsApp Live Location Sharing Feature – How Does It Work?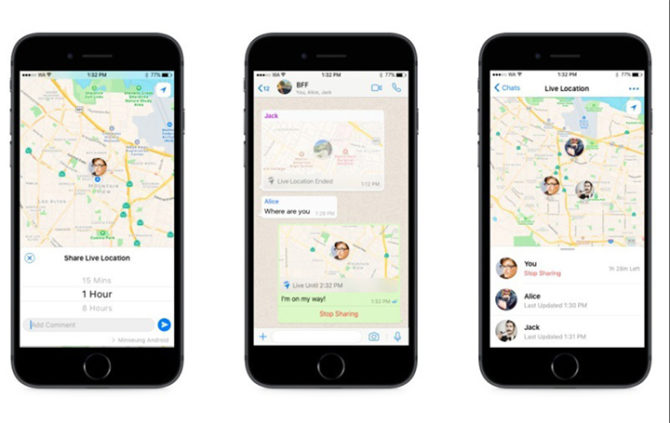 WhatsApp already allows you to share your current location with other users. However, it is a static one-time share. The new Live Location Sharing feature updates your location in real time. It works even if WhatsApp is running in the background.
Also read: How To Reduce App Data Usage On Android Devices
Availability
The new feature has now started rolling out to Android and iOS devices. I will be 'globally available within the coming days'. WhatsApp Web users will see a placeholder indicating that the live location can be seen on the phone.
Also read: WhatsApp Coloured Text Status Rolled Out
How does it work?
While sharing your live location in a WhatsApp chat, you will be prompted to select the duration of time for which the share will be active. You can choose from one of the preset options – 15 minutes, 1 hour (default), and 8 hours. It also allows you to add a comment. You can manually stop sharing live location data at any given time. Users can also share the old one-time, static location. A new option in your Account Privacy settings offers an overview of all WhatsApp chats you are sharing your live location in at the time.
User location is shared at the chat level. It will show up in WhatsApp chats as thumbnails that shows the initial location and a 'Live until' time. Tapping on 'View live location' takes you to a map view with the current location of all the users sharing their location in a chat. You can choose from a Satellite/ Terrain view of the map. It will also show live traffic data as an overlay.
In a WhatsApp group, the group info will show all users that are sharing their location with the group at any point. You won't need to scroll to find the message where the user originally shared their location.
Also read: WhatsApp Users Can Now Video call and Text Message Simultaneously
Conclusion
WhatsApp claims that the new feature 'addresses a lot of common challenges that people run into when they are in a chat scenario – we have no plans to expand that into long-term sharing at this time.' The messaging service also promises that the new feature won't have an adverse effect on your smartphone battery. Apparently, the app uses 'special techniques to help conserve your battery when sharing live location. So it takes into account a number of different factors, such as how long you've been sharing your live location, whether someone on the other end who you are sharing with is actually looking at the map, your current battery level.'
We will have to wait and how the new feature works in real-world scenarios. It is bound to improve over time. Whatsapp plans to 'continuously optimise over time as we get more usage of the feature.'
More related stories below: