Xiaomi has launched a new Mi AirPOP PM2.5 Anti-Pollution Mask in the Indian market. The company claims that the new mask provides 99 percent PM2.5 protection using a four-layer filtration process. It comes with a 3D Soft Fit Sponge technology. Read more to find about Xiaomi Mi AirPOP PM.25 Anti-Pollution Mask Price in India, Specifications, and Features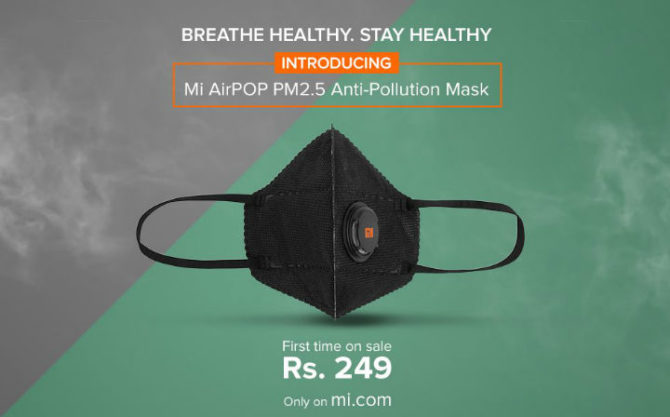 Price and Availability
The Xiaomi Mi AirPOP PM.25 Anti-Pollution Mask is priced in India at Rs 249 (for the pack with two pieces). It is exclusively available for purchase through the Mi.com website.
The company announced the new mask on its official Twitter account. The tagline read – "Beat the pollution with Mi AirPOP PM2.5 Anti-Pollution Mask! Goes on sale for the first time in India at 12 noon only on http://mi.com. Get yours today."
Also read: Xiaomi Redmi Pro 2 To Come With 48MP Camera Coming On January 10
Features
Four layers of filters
99 percent PM2.5 protection
Electrostatic micro-filtration layer
Water-permeable layer
3D Soft Fit Sponge technology
Constant airflow
The Mi AirPOP PM2.5 Anti-Pollution Mask features four layers of filters. It protects users from combat air pollutants, including seasonal haze, dust storms, cold, flu pathogens, allergenic pollen, grease, smoke, and exhaust. The company claims that the new mask offers 99 percent PM2.5 protection.
For microparticles, the Xiaomi mask comes with an electrostatic micro-filtration layer. It blocks out particles of 0.3 micrometers in diameter. Additionally, a water-permeable layer reduces vapor buildup on your face.
While a support mesh to provides the 3D structure (with curved lines) to the mask, a 3D Soft Fit Sponge technology enables the mask to automatically adjust to your facial features. A large vortex value enables constant airflow and reduces eyeglass fogging. Additionally, special creases allow you to easily fold the new mask. It comes in a Black color option.
Also read: Samsung Foldable Smartphone To Sport Triple Cameras, 7.3-Inch Display
Conclusion
With the Mi AirPOP PM2.5 Anti-Pollution Mask, Xiaomi is trying to capitalize on the increase in air pollution in the country. However, the low-cost might help many users to protect themselves from harmful effects.
The company claims that the black mask is specifically customized for day-to-day use in Indian conditions. Apart from filtering out impurities in the air, it comes with a skin-friendly fabric and 3D design that offers a comfortable fit. Also, it does not use any metal nose bars (seen on several anti-pollution masks in the market).
What do you think of the new anti-pollution mask? Will you purchase the new Xiaomi Mi AirPOP PM2.5 Anti-Pollution Mask? Share your views with us in the comments section below.
More related stories below: