While a number of fitness and sleep trackers varying from mid-range to high-range price tags are crowding the Indian market, a new entry in the Indian gadget market dubbed the Xiaomi Mi Band has startled everyone with its ultra-affordable price and impressive features. Besides tracking fitness and sleep activities, this wearable also offers an excellent battery life. Priced at Rs. 999, the Xiaomi Mi Band was announced for India alongside Xiaomi Mi 4i at a launch event in India. We got to spend week with the device and here's our experience with the Mi Band. Read on to find all pros and cons of the device in this Xiaomi Mi Band review post so that you make an informed decision about whether to buy this wearable or not.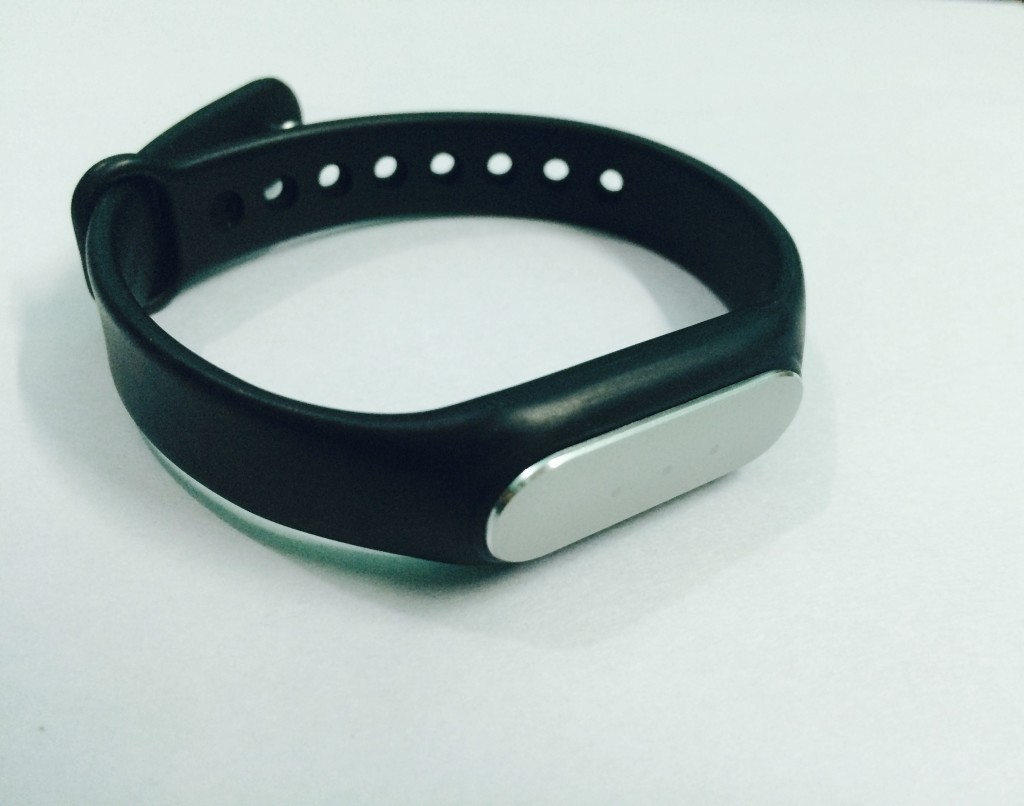 In The Box
Unlike other manufacturers who focus on bright, alluring designs of their package boxes, Xiaomi has kept its box low profile. The packaging is quite simple with a square box made of cardboard which looks neat and sublime.
The Mi Band box packaging comes with:
Core or the tracker;
Rubberised band
Small USB cable which acts as a charger to the core
User manual

Design
Xiaomi has kept the design language quite simple for this wearable. There is a light weight rubber wrist band along with a detachable tracker which you have to adjust in the Band itself. The band is adjustable, according to your preference you can either wear it loose or tight. It is very light in weight and does not make the user feel unpleasant on wearing it even for longer periods of time.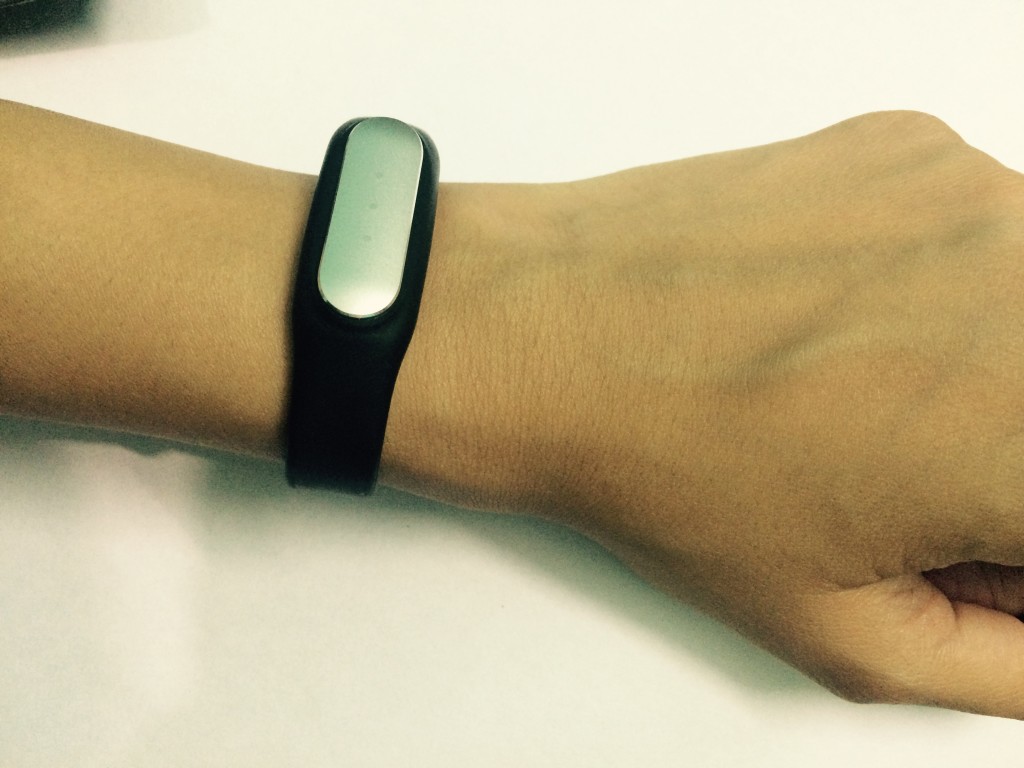 The tracker features thick aluminium alloy core surface. It lacks a display but comes with three LED lights  instead, which light up according to your activities. The tracker also vibrates when you get an incoming call on your smartphone.

Specs
Bluetooth-enabled
Compatibility: Android 4.4 and above, iPhones 4s and late running iOS 7.0 and above
41mAh battery
30 days battery life
Water-resistant (IP67)
Wrist Band Color Options: Brown, Blue, Pink, Black, Purple, Grey
Mi Band App
In order to start using your Mi Band, you will first have to download Mi Band app on your Android or iOS device (from Google Play store or App store) and pair your smartphone using the app with your Mi Band. The Mi Band app will show you the steps and sleep patterns including the time for which you were in deep sleep. On the app you can select the color of the LED notification light- Blue, Orange, Green and Red; choose band location- left hand or right hand.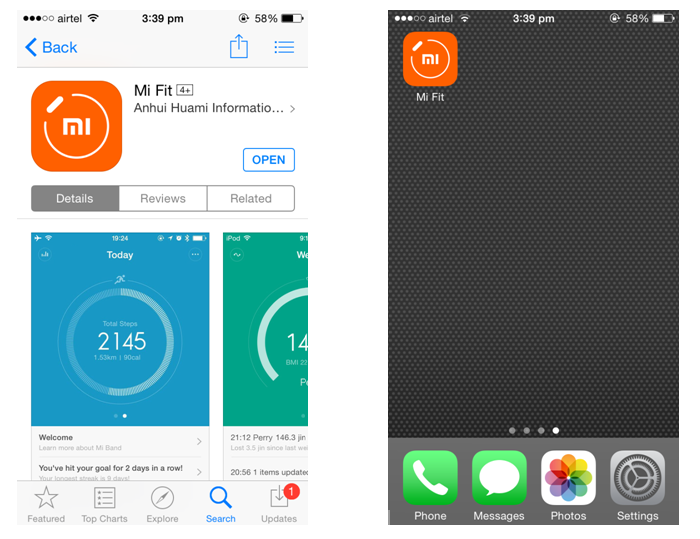 Performance
Compatibility: It is compatible with Android phones, Mi Phones and iPhones. iOS users get an added advantage that it syncs with the Health app on their iPhones. It works on Bluetooth LE and consumes less battery of the smartphone.
The Mi Band will track your movements showing steps you have taken, calories burnt as well as it keeps track on your sleep pattern. It will also tell you for how much time you were in deep sleep.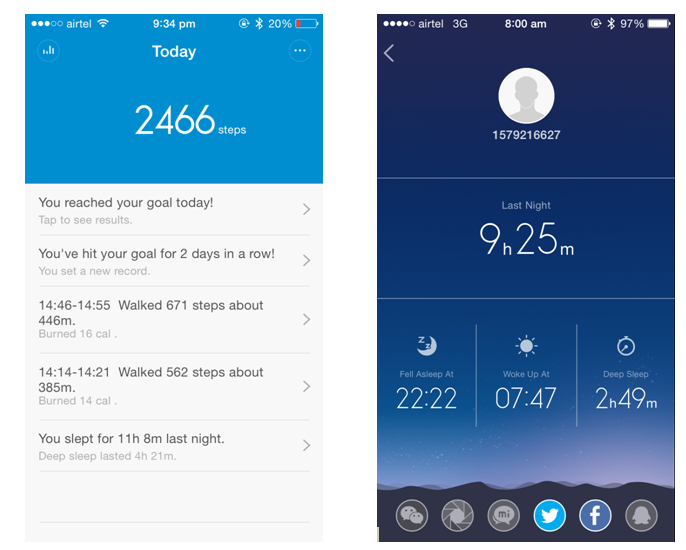 Besides showing fitness goals and sleep pattern, the device also vibrates every time there is an incoming call on the synced smartphone. Even if you are away from your smartphone (but in Bluetooth range), the Mi Band will start vibrating alerting you about incoming call on your handset. You can also set the time (3 seconds, 5 seconds or more) within which if incoming call has not been picked, Mi Band will vibrate to notify you.
You can set alarm and have a sound sleep with the Mi Band on your wrist without any worry since the Mi Band will take the onus to wake you up! When the clock will tick the time, the Band on your wrist will start vibrating. There is also an option of early bird alarm which will wake you up 30 minutes before the time you have preset for alarm, if the band will detect it is the right time for you to wake up.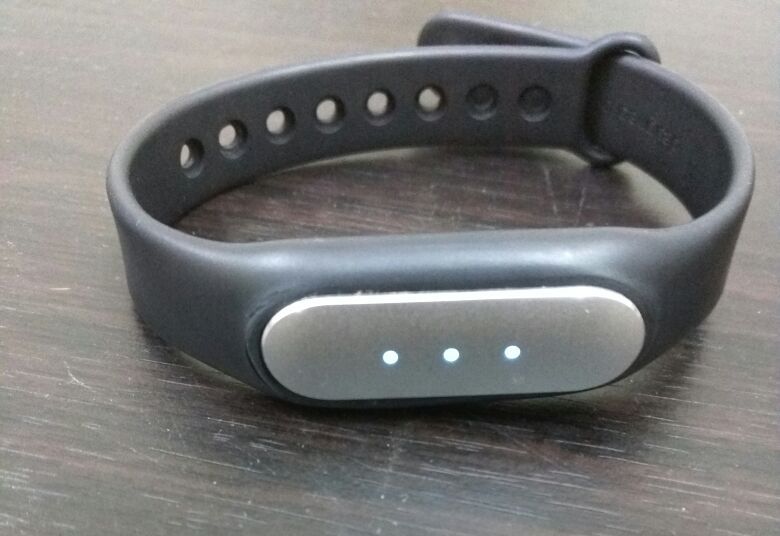 In case you have misplaced your Mi Band, you can use Mi app on your device to locate the device. The band will light up and vibrate if it will be Bluetooth range.
There is one more interesting feature which this wearable offers. If you are holding the phone in the same hand that's wearing the band, it allows you to unlock your paired smartphone with a simple swipe without entering any pass code or pattern. Devices compatible with this feature include smartphones with MIUI or Android 5.0 and above. Unfortunately, iOS users cannot make use of this feature.
Battery
One of the striking features of this wearable is its impressive battery life. With just 2 hours of charging, the battery lasts for up to 30 days. I have been using the Mi Band for a week now and it still shows 88% battery remaining which could further last up to over a month!
Price and Availability
Xiaomi Mi Band carries a price tag of Rs. 999. It will go on sale exclusively on company's mi.com website on May 5, 2015 while registrations are now open. The company has announced that first 1000 Mi Band units will be available at Re. 1.
Xiaomi Mi Band Review Verdict
Pros
Cons
1. Quite accurate in tracking steps and sleep pattern

2. Exceptional battery life

3. Water Resistant

4. Ultra affordable price

5. Light weight

6. Comfortable to wear

1. Lacks a display
Verdict
I would recommend it to every fitness enthusiast who want to keep a track on their fitness goals and track sleep without spending much money. The Mi Band is quite a decent gadget  and it's vibrating feature during incoming call also makes sure that you do not miss a call.  Looking at the spectacular features it has to offer at an ultra affordable price of Rs. 999, Mi Band is surely a good steal and value for money product!
Did you get a chance to try your hands on Mi Band? How was your experience. Share your views with us in the comments below!
Also Read: Moto 360 With Metal Bands Now Available In India At Rs. 19,999 On Flipkart
More related stories below: