Huawei Ascend Mate is a 6.1-inches phablet device which was launched on 18th June 2013. Inspite of having the 6.1 form factor it is still think and packs a lot of powerful features. Huawei being the fourth largest smartphone manufacturer has undoubtely done its best in the device and therefore have got a lot more to flaut which can be read more in the review below.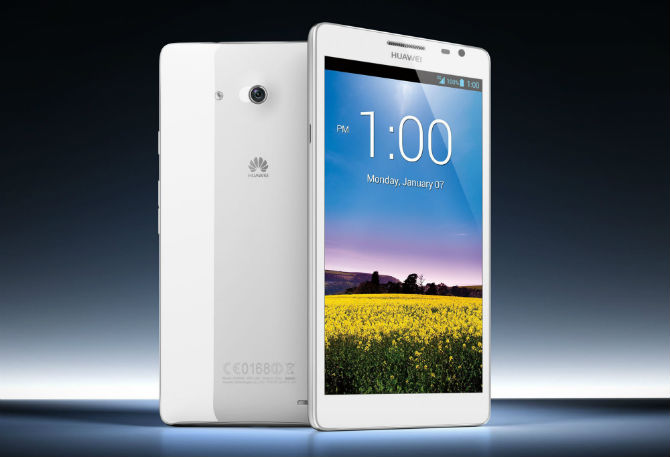 Design:
Huawei Ascend Mate has a phablet build but inspite of this it has managed to pack the beast in 9.9mm thickness and easy to hold form factor. Yes it is not meant for a single handed usage but the curved edges makes it easy to hold it in one hand and operate from the other or maybe from the same hand if you have that big. We shot an unboxing video which can be watched below.
Display:
Display quality on the Ascend Mate is amazing. We saw a full HD video on the phablet device and was totally surprised by the output it gives. The color richness and display quality makes objects look beautiful making the display one USP of the device. The display is HD that is of 1280×720 pixel resolution
Camera:
Huawei Ascend Mate features a 8MP rear camera which shoots up to 3264×2448 resolution pictures and up to full HD videos. It comes with a LED flash and autofocus functionality along with a secondary camera of 1MP which itself is capable of recording 720p videos.
Hardware:
Coming to the hardware technical specifications of the Huawei Ascend Mate, it is powered by a in-house quad-core 1.5GHz processor having 2GB of RAM. It comes with 8GB internal memory with support for external microSD card up to 32GB. It has a massive 4000 mAh capacity battery which keeps the phablet on standby for a a long time and has the capability to charge another device just like a portable charger.
Software:
Huawei devices comes with a simple emotion UI which just have the home screen and the apps without the app drawer. It has been deisgned to keep minimalistic user interface but instead providing a rich user experience. It runs on Android 4.1 Jelly Bean and is planned for upgradation in near future.
Price:
Huawei launched the Ascend Mate comes for Rs. 25,000 from Flipkart and other e-commerce retailing online sites or at the leading retail stores across the country and I would it is a steal for what it offers.
Conclusion:
Huawei Ascend Mate the well priced phablet from Huawei which has been not much in news but totally deserves some attention. The hardware it packs with quad-core processor, 16-core GPU, 2GB RAM, 8MP camera with such an amazing display makes it worth the price spent for. above that 25k for a 6.1 inch device is liek the cheapest and the most exiciting offer one can avail of. We tested the device for a week and personally found that it is a perfect smartphone for one's daily needs. We didn't liked the emotion UI that much but Android being an open source mobile operating system allows us to tweak, hack and mod our device as we like and its should not be a reason for rejecting this device. So overall 25k for this can be worth if you are looking for this screen size.
More related stories below: