Apple has updated its iPad Pro range. It has upgraded its 12.9-inch iPad Pro and replaced the 9.7-inch iPad Pro with a 10.5-inch model. The new iOS 11 also offers iPad-specific features to both these devices. Can't decide between the two? Read more to find out 10.5-inch iPad Pro vs 12.9-inch iPad Pro (2017) comparison: Which iPad Pro is better?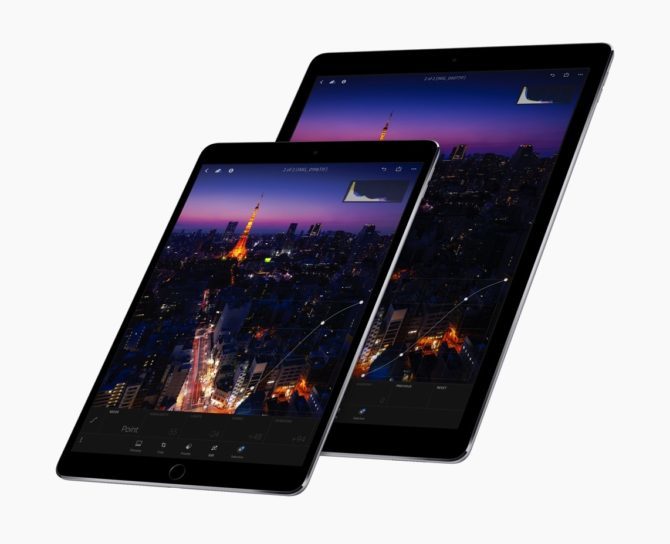 10.5-inch iPad Pro Vs 12.9-inch iPad Pro
Price
| | | |
| --- | --- | --- |
| Models | 10.5-inch iPad Pro | 12.9-inch iPad Pro |
| WiFi | | |
| 64GB | $649 | $799 |
| 256GB | $749 | $899 |
| 512GB | $949 | $1099 |
| WiFi + Cellular | | |
| 64GB | $779 | $929 |
| 256GB | $879 | $1029 |
| 512Gb | $1079 | $1229 |
Apple has increased storage capacities with the new iPad Pro range which gives you more options. The 32GB, 128GB and 256GB options are replaced by 64GB, 256GB and a 512GB. While the 10.5-inch model starts at $649 (Rs 41,750), the 12.9-inch base model is priced at $799 (Rs 45,000). While the price difference is not outrageous, the price starts to look ridiculous with the 12.9-inch model as you go towards higher models. Remember, it is just a powerful tablet after all.
Specifications
Apple has not revealed all the specifications of the new iPad Pro models including RAM and processor clock speeds. The company claims that the Apple A10X Fusion chip which powers both models delivers 30% faster CPU and 40% faster GPU. While this doesn't make things clear, we can refer to older models. The 12.9-inch iPad Pro (2015) had a faster clock speed and twice the RAM, when compared to 9.7-inch iPad Pro (2016). Most likely, the new 12.9-inch model will offer slightly better performance.
Both models feature a 12MP rear camera with ƒ/1.8 aperture, 4K video recording capability and optical image stabilization (OIS). For facetime, both models come with a 7MP front camera with f2.2 aperture and 4K video recording capability. The secretive firm hasn't revealed the battery capacity of both models either.
Also read: WWDC 2017: Apple iMac Pro, 10.5-inch iPad Pro Launched
Design
Apple has compacted the size of both new iPad Pros. The 10.5-inch model measures almost the same as the 9.7-inch one, despite having a 20 per cent larger display. While the 10.5-inch iPad Pro measures 250.6 x 174.1 x 6.1mm and 469g, the 12.9-inch iPad Pro measures 305.7 x 220.6 x 6.9 mm and 677g. The new design also adds the quad array speakers of the 12.9-inch model to the 10.5-inch one.
Display
Both models support a 120Hz refresh rate (double than standard LCDs), 600 nits peak brightness, P3 wide color gamut, and True Tone technology. Just like the 12.9-icnh iPad Pro, the 10.5-inch model also supports a full sized keyboard now. So, in terms of design and display, there isn't too much difference between the two iPad Pro models now, except the display size.
Also read: Apple iOS 11 Unveiled: Here Are All The New Changes
Verdict
In absence of any exciting design differences and hidden specifications, there isn't much to base your choice on. In a way, Apple insists that all iPad Pros are same except screen size and storage, which is not necessarily a positive. Considering the massive price tag iPad Pro range carries, it is smart to stick with the 10.5-inch model since it is almost identical to the 12.9-inch one. If you go with the larger display, that's all you would be paying for. Having said that Apple has nice upgrades to the new models, which are complemented by the new iOS 11. Despite their high price, the new iPad Pro models are good technological additions in the tablet segment. Which of the two tablets would you go for? What factors influence your choice? Let us know in the comments section below.
More related stories below: