We are giving away a Microsoft Lumia 535 to one lucky winner who will be picked on the basis of most correct answers given by him/her. We will be asking one new question everyday for 5 days starting today on this page (please bookmark this and come back everyday for new questions). The giveaway is between 24th August 2015 to 28th August 2015, IST. We will be announcing the winners on Monday, 31st August 2015. Please refer the rules below and find the questions below.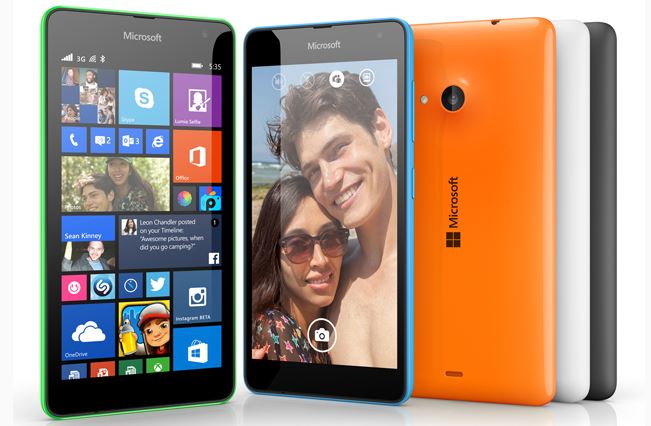 About Lumia 535
Lumia 535 is the first-ever Lumia smartphone with the Microsoft branding. This mid-range smartphone comes with a 5-inch display, 5 MP wide-angle front camera, and 5 MP rear camera. Powered by a 1.2 Ghz quad-core processor, the device has a strong 1905 mAh replaceable battery and comes with in-built 8GB memory and signature Microsoft apps like:
MS Office Suite
Lumia 535 is pre-packed with MS Word, Excel, and PowerPoint to help users Achieve More productivity on-the-go.
Skype
Lumia 535provides amazing Skype experience on its 5 inch wide display. Users can enjoy a simulating video call experience through the 5 MP wide angle camera and connect with loved ones anytime, anywhere.
OneDrive
In addition to the in-built 8 GB storage, Lumia 535 comes with 30 GB of Free OneDrive storage. This makes it easy for users to share, view, and edit their documents on-the-go.
OneNote
OneNote on Lumia 535 empowers users to take quick notes, store them on the cloud, and share them in real-time.
Here are some useful resources which you can refer to know more about these services and get hints for answering these questions-
Lumia 535 is upgradable to Windows 10. It is available at an attractive price of just Rs. 5999 using the recent buyback offer.
Contest Rules
Each participant has to answer each question correctly. Answers must be posted in comments section below, please use correct email id so that we can contact the winner.
All 5 questions need to be answered.
Participants must follow @iDigestIndia and @LumiaIndia on twitter
One lucky winner will be selected at the end of the contest and winner announcement will take place on 31st August 2015 on this page.
This contest is open only to residents of India. Winner has to share a photo ID to claim the prize.
Optional: Please help spread the word by sharing this status on your twitter/ facebook profile –
#AchieveMore #Giveaway by @iDigestIndia is on: Win A Lumia 535 by participating here- http://goo.gl/FHfF5C
Contest Questions
Day 1 Question (24th August 2015)
Varun is an avid gamer. You can ask him which is the latest game earning applauses and you'll get prompt and accurate answer without fail. But, he's in a fix now! Varun's friend in the US has got a game and he just needs it. Tell us which Lumia 535 feature and why should Varun's friend use to satisfy his urge for the game.
Day 2 Question (25th August 2015)
Adithya's teachers, parents, friends, and almost everyone taunt him on being mismanaged. Which Lumia 535 feature would help Adithya change his image?
Day 3 Question (26th August 2015)
Parul has just started her Quilling business and she wants to take it to unimaginable heights. But the girl has no one to help out. She's too busy that she is unable to expand it. Tell us what feature of Lumia 535 can help her save time, relationship with existing client, and even bag the deals with new ones.
Day 4 Question (27th August 2015)
Vipin is pursuing his dream of being a Musician but he's managing his father's business. He's somehow doing it both quite well. But one day, when he was on his way for recording at a renowned studio, his secretary reminds him of an important client pitch that he had to make amends on. Suggest what Lumia 535 feature he should use to tackle the situation.
Day 5 Question (28th August 2015)
Being the immediate subordinate to his boss in a tour and travels agency, it's absolutely important for Debjit to always have access to his vast clients database and leads sheet. One fine day his boss asks him to mail the sheet as he has deleted it accidentally. But oops! Debjit has it saved in his desktop. His boss is furious! Tell us what Lumia 535 feature should he use the next time to avoid such a fuss.
Please post your answers in the comment section below.
Updated on 31 August 2015
The winner is Aisha. We will get in touch with you shortly.
More related stories below: